Louisville, KY
– Touching down in Louisville (and make sure you say it right: Loo-uh-vul), Kentucky seemed, at first, to be like arriving in any American city. It wasn't until I left the airport and entered the city that I realized Louisville had something different on offer, something I immediately fell in love with.
Louisville is very much a college town and while it is a bustling city at its center with over 700,000 citizens, where Louisville shines is on the outskirts, in the rolling country hills where I drove the brand new 2013 Buick Enclave.
I'll be honest here: I'm not a Buick fan, follower or lover. I, obviously, know of the brand and what it stands for but that's about as far as my interests went. However, upon seeing photos of the up-and-coming 2013 Buick Enclave, I was intrigued.
Meeting modern needs
From the outside, it's clear Buick has taken in the automotive world around them and picked out all the best bits and pieces of similar models in its segment to put together the final exterior package on the 2013 Buick Enclave -- and that's not a bad thing at all. The end result is a luxury crossover that manages to stand out from the crowd without losing the brand's design philosophy, one that makes a Buick instantly recognizable.
From the new front grille to the blacked out rear pillars that give the 2013 Buick Enclave a much more sophisticated presence, the overall look is one that will appeal to buyers both young and old -- which is something I'm sure the Buick designers had in mind.
Inside, the same future-driven design continues with ice blue LED ambient lighting featured throughout the dash and doors (both front and back). Old-school wood panelling has been replaced with leather stitching and chrome accents (although, wood is still available as an option for those who really want it). In all, the interior of the 2013 Buick Enclave is what you'd expect to see in a modern-day luxury CUV.
On the long and winding road
The country roads around Louisville, Kentucky are something else. Narrow, winding, shoulderless and hilly, they are a joy to drive -- even in a 7-passenger CUV.
While there were multiple complaints about the Buick Enclave's previous transmission, the issues seem to have been sorted in this latest iteration. Equipped with a 3.6L V6, the 2013 Buick Enclave's 6-speed Hydra-Matic automatic transmission is responsive and well sorted. Despite the vehicle's near 2,270 kg (5,000lb) weight (with AWD), the 288 horsepower and 270 lb-ft of torque are adequate and do the job extremely well.
I expected the ride to be a bit plushier (thanks to the Buick stereotype), but was met with a much harsher feeling thanks to the 20" optional wheels my particuarl vehicle was sporting. Had my 2013 Buick Enclave been equipped with the standard 18" or even the 19" wheels, my experience would have been much "smoother." Regardless, handling on the 2013 Buick Enclave is impressive for a vehicle its size and shape.
A Buick is still a Buick...
Despite their best efforts, I have a feeling Buick will still face the issue of concurring their stereotype and branching out in a new market of vibrant, affluent buyers. Although the 2013 Buick Enclave is clearly designed to compete with the likes of the
Audi Q7
and
Infiniti JX
I'm just not sure those buyers will think to look towards Buick as an option.
Priced in the $40,000-range for base FWD and AWD models, the Buick Enclave offers luxury for seven at a decent price-point, however, I'm not completely sold on their hopes of appealing to a new consumer with a futuristic design and improved driving dynamics.
2013 Buick Enclave Convenience FWD 1SD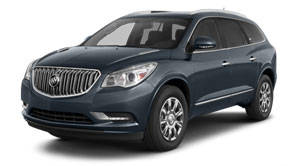 2013 Buick Enclave Convenience FWD 1SD