NASHVILLE, Tennessee -
According to Nissan, this is their biggest car launch to date, and with good reason; the Altima is the brand's volume seller. During the 2011 calendar year, it was their bestselling car in the US; so far in 2012, it's Nissan Canada's sales leader.
As usual, when you have a successful car in a competitive and lucrative market segment, you must be extra careful to improve it without screwing it up. And to battle notorious rivals such as the Honda Accord, the
Hyundai Sonata
, the Toyota Camry and the
Ford Fusion
, that's what the 2013 Nissan Altima is all about: many improvements here and there, new sheetmetal and an evolutionary step forward.
The US-spec Altima will be built in Nissan's Smyrna assembly plant; however, the Canadian-spec car, which will arrive in dealerships in August, will be built in their Canton, Mississippi plant.
Fuel economy on the rise
The biggest improvement on the 2013 Altima regards its reduced appetite for regular unleaded. The 2.5L 4-cylinder has been revised, now producing 182 hp and 180 lb-ft of torque, up 7 ponies. Nissan claims a highway fuel economy figure of 38 US MPG (up from 32), which equals 6.2L/100km. Here in Canada, we expect the outdated NRCan test procedure should produce a result under 6L/100km for the highway rating.
The 3.5L V6 is also back, still developing 270 hp and 258 lb-ft of torque. According to Nissan, only 10% of Altima buyers will choose a 6-cylinder engine.
The continuously variable automatic transmission, or CVT, is now the only choice in the Altima; that's right, no more manual, and if you're asking why, it's because only about 5% of customers previously opted for it.
The CVT gearbox has also been revised; Nissan claims 70% of its parts have been changed, internal friction was reduced, the gear ratio spread has been widened, and its electronic brain now benefits from a higher IQ. It includes a Sport mode in all models, while paddle shifters are added to V6-powered trims.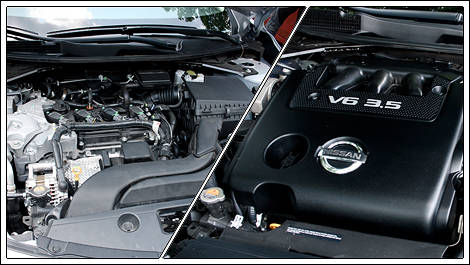 For 2013, the Nissan Altima retains its 2.4L 4-cylinder and 3.5L V6 engines. (Photo: Michel Deslauriers)
On the road
We started our journey behind the wheel of a loaded V6 Altima. Smooth, refined, the 3.5L VQ engine failed to set our hearts alive; it felt shy to dive into its low-end torque, probably to maximize fuel, but is nevertheless pretty quick. Some competitors have punchier V6s than the Altima, such as the Mazda6 and the Honda Accord.
The 2.5L 4-banger has enough guts for anybody, but is obviously noisier at wide-open throttle than the V6. In both cases, flooring the throttle summons the new CVT which, in our test cars, curiously dropped revs and climbed back up again at wide-open throttle, as if it was trying to convince you that it was swapping gears. Strange indeed, but nevertheless, the CVT seemed to do an excellent job.
Also noted: the V6 model's manual mode includes seven preset ratios, and at a steady 100 km/h in the 2.5L Altima, the engine spins at only 1,500 rpm.
Something new: included in every Altima is Nissan's new Active Understeer Control system, which brakes the inside front wheel while cornering, to help rotate the car and maintain control of it.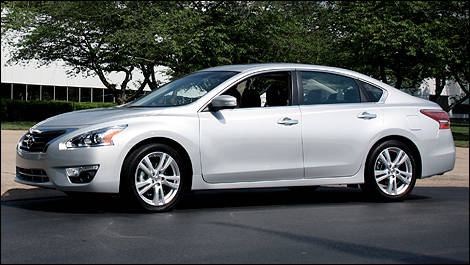 The highway fuel economy rating for the 2.5L engine has increased by nearly 19%. (Photo: Michel Deslauriers)
Superbly quiet cabin
During the drive, my colleague and I were amazed at how quiet the Altima has become. With a hushed engine and virtually no suspension or tire noise, we could almost whisper to one another and understand every word.
The Altima's seats have also been revised. The company claims they increase blood flow, decrease muscular load and lower fatigue. We found them comfortable; for the rest of the assertions, well, it's hard to say.
Not in terms of design, but in terms of fit and finish, the Altima's interior is almost Infiniti-esque, obviously more so in the leather-clad SL trim levels. Headroom is slightly down in front and slightly up in back, while legroom and shoulder room have also made small gains. Trunk space is virtually the same as in the old model, now rated at 436 litres.
Trim and pricing breakdown
The 2013 Altima 2.5 will start at $23,698 and includes a trip computer with 4" LCD display, Bluetooth phone and streaming audio connectivity, cruise control and air conditioning. Next up is the $24,898 2.5S, which adds an intelligent key, heated mirrors and automatic headlights.
Pricing will start at $23,698, and can reach $33,698 for loaded trim levels. (Photo: Michel Deslauriers)
The $26,998 2.5SV and $29,698 3.5SV receive alloy wheels (17" and 18" respectively), a remote engine starter, a rearview camera, dual-zone climate control, a power sunroof, heated front seats and NissanConnect. The $29,598 2.5SL and $32,598 3.5SL get leather upholstery, a heated steering wheel, a 9-speaker Bose stereo, a power driver's seat, LED taillights, power-folding mirrors with integrated turn signals as well as a more luxurious interior.
For $900, you can get navigation on SV trims, and for $1,100, you can upgrade your SL-trim Altima with navigation, a blind-spot monitor, lane-departure warning and a rear moving object detection system.
On this short preview drive, the new Nissan Altima didn't stir our souls, but it scores on what the typical customer expects of a midsize sedan: plenty of room, a peaceful environment, refinement and fuel economy. Consider the 2013 Altima as the result of a cautious but meaningful evolution.
Key Competitors
2013 Nissan Altima 2.5