Pros:
The 2014 Jaguar XJ is a decidedly British luxury sedan (notwithstanding the Indian ownership of Tata Motors). The lavish interior is full of premium touches and amenities, while the exterior is oh-so classy. Moreover, driving feels sporty thanks in large part to a selection of muscular engines.
Cons:
Most people would be proud to have a Jaguar XJ in their driveway, even with a few interior issues like a complicated array of controls or concerns about reliability (despite the recent improvements).
2014 Jaguar XJ Price:
There are five models to choose from including the XJ, XJL Portfolio, XJ/XJL Supercharged, XJ/XJL Supersport, and XJR. Prices range from $88,000 to $136,000 to start.
2014 Jaguar XJ Fuel Economy:
With powertrain options that start at 340 horsepower, expect to burn at least 8.1L/100km on the highway and up to 16.9L/100km in the city.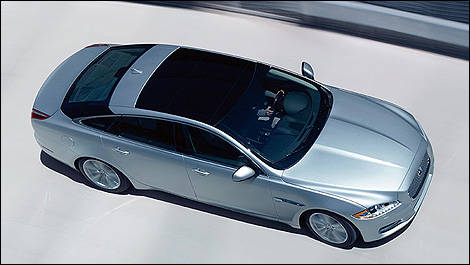 Photo: Jaguar
Improvements and Changes:
This year sees the addition of a high-performance XJR model in the lineup.
2014 Jaguar XJ Powertrain:
The base V6 engine is a 3.0L supercharged unit producing 340 horsepower. Then there's a naturally aspirated 5.0L V8 rated at 385 horsepower. With the help of a supercharger, the same engine puts out anywhere between 470-550 horsepower. All are mated to an 8-speed automatic transmission with manual mode, but only the V6 offers all-wheel drive as an option.
Cargo Capacity:
With 430 litres of trunk space, the 2014 Jaguar XJ sits in the middle of the pack.
Safety:
XJ occupants can relax knowing they are protected by a full suite of airbags, sophisticated brakes, stability and traction control, adaptive cruise control, as well as a blind spot monitoring system.

Comparing the 2014 Jaguar XJ:
Rivals of the XJ include the Audi A8, BMW 7 Series, Lexus LS, Maserati Quattroporte, and Mercedes-Benz S-Class.