Pros:
The 2014 Lexus GS 350 is arguably one of the best luxury sedans on the market right now -- a feat 25 years in the making. With an adaptive suspension, ride quality rivals other luxury nameplates like BMW, Audi, and Mercedes-Benz. The interior boasts exceptional fit and finish, as well as a comprehensive array of features. Four-wheel active steering and all-wheel drive are available to improve handling. And don't forget about Lexus' stellar reputation for initial quality and reliability.
Cons:
All is not roses and sunshine with the GS 350. The mouse-like Remote Touch controller is hardly what I'd call ''user-friendly'' -- why not a conventional touchscreen instead? Also, beware of pricey options.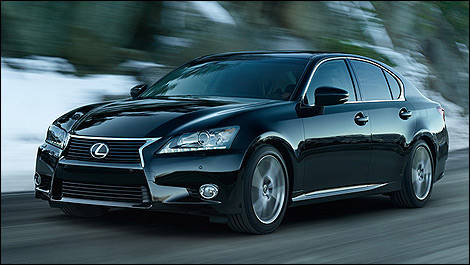 Photo: Lexus
2014 Lexus GS 350 Price:
Two models define the GS 350 lineup -- one with rear-wheel drive at $52,200 and another with all-wheel drive at $54,900.
2014 Lexus GS 350 Fuel Economy:
The GS 350 RWD burns 10.7L/100km in the city and 7.1L/100km on the highway, while the GS 350 AWD increases those numbers to 11.1L and 7.6L/100km, respectively.
Improvements and Changes:
For 2014, suspension and transmission upgrades contribute to dynamic handling that basically matches German competition.
2014 Lexus GS 350 Powertrain:
The smooth 3.5L DOHC V6 engine under the hood of the GS 350 produces 306 horsepower (vs. 268 hp in the smaller ES 350) through a 8-speed automatic transmission with manual mode. As mentioned, all-wheel drive is available.
Cargo Capacity:
The accommodating trunk of the 2014 Lexus GS 350 can swallow 530 litres worth of luggage, which is above average in this class.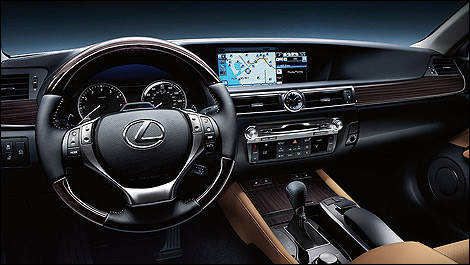 Photo: Lexus
Safety:
Standard features include stability and traction control, disc brakes with ABS, brake assist and electronic brake force distribution, as well as smart stop technology, which automatically cuts engine power and allows the brakes to take precedence over the accelerator when both pedals are pressed at the same time. Let's not forget the 10 airbags and available technologies like head-up display, night vision, adaptive cruise control, lane departure warning, forward collision warning, blind spot monitoring and rear cross traffic alert.
Comparing the 2014 Lexus GS 350:
Similar luxury sedans worth checking out include the Audi A6, Acura RLX, BMW 5 Series, Mercedes-Benz E-Class, Cadillac CTS, Lincoln MKS, and Volvo S80.