Summary
When Cadillac first launched the ATS, it promoted its new product as a "BMW 3-Series competitor." Many of us questioned such a boastful statement, until we actually drove the vehicle. Cadillac was spot on, and now with this new coupe and rumors of a wagon & convertible to follow, I doubt the Bavarians will be sending GM a Christmas card this year!

Price
Figures weren't announced at Detroit. However, with pricing for the 2014 ATS range falling between $ 35,195 and 53,705, we can probably take an educated guess at the price of the new Coupe.

Fuel economy
No fuel-economy numbers have been released. However, with figures for the 2014 four-door 2.0L Turbo running at 10.7L/6.6L/100km (city/hwy -- manual), and 9.9L/6.3L/100km (city/hwy -- automatic), we can expect somewhere around this or slightly better, I'm guessing.
Latest Improvements
Cadillac CUE is at the centre of the ATS Coupe's collection of technologies. Complementing this is OnStar 4G LTE connectivity, which features a built-in WiFi hotspot that can connect up to seven devices. This new 4G LTE connection can also be used to power CUE Collection, a new in-car app marketplace coming to Cadillac vehicles this year.
New ATS Coupe owners will also enjoy the capability of remotely starting the engine or lowering the windows with the key fob or the owner's smartphone, and LED headlamps with Adaptive Forward Lighting is now available.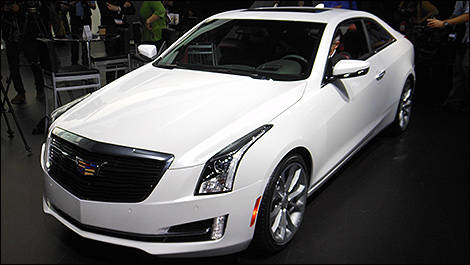 Photo: Kevin Corrigan
Exterior Styling
With the success of the four-door ATS, the Coupe simply makes perfect sense. It also paves the way for a possible convertible further down the line.
The 2015 ATS Coupe shares the same 109.3" (2,775mm) wheelbase as the sedan, but features its own unique bodywork. It's slightly less outrageous than the CTS Coupe (not quite so humpbacked) which should make the ATS Coupe more appealing to a wider audience.

Interior Design
It's an ATS after all, so the Coupe shares much of the interior we've come to love on the four-door. Quality abounds throughout and attention to detail is precisely what we've come to expect from Cadillac models of late.
Available interior features include:
OnStar 4G LTE connectivity with built-in WiFi hotspot;
Bluetooth phone and audio connectivity with natural voice recognition;
Text-to-voice converts incoming text messages to speech and reads them over the audio system speakers;
USB, auxiliary and SD memory card ports;
Sirius XM Satellite Radio with three-month trial subscription;
Reconfigurable 5.7" three-window instrument panel cluster display;
Full-colour reconfigurable head-up display.
Drivetrain
The engine lineup includes a standard 2.0L turbocharged 4-cylinder and an available 3.6L V6. The 2.0L Turbo is rated at 272 horsepower with 295 lb-ft of torque. The 3.6L V6 is rated at 321 horsepower and offers up 275 lb-ft of torque.
Power can be channeled to either the rear or all four wheels, by the owner's choice of a 6-speed manual or a 6-speed automatic transmission.
Customers can expect almost perfect 50/50 weight balance, with a low centre of gravity and a 0-100 km/hr time of around 5.6 seconds (2.0L turbo).
Cargo Capacity
No numbers released yet. However, the four-door boasts 290 litres of trunk space, so I expect the new Coupe to offer somewhat similar capacity.
Comparable Models
The
BMW 4 Series
,
Audi A5
and
Mercedes-Benz C-Class Coupe
are probably its main competitors. However, Cadillac has been attracting new customers to the brand from all over the spectrum with its four-door ATS, and I imagine this will only improve with the Coupe.