50 years ago Bob Tasca's mind conceived of the Ford Mustang Cobra Jet. Tasca was a car racer, but he was also at that time the owner of a Ford dealership. As a tribute to his idea, Ford has just revealed a special 50th anniversary edition of the model.
The new Cobra Jet is the fastest and most powerful Mustang dragster ever created.
The model is powered by the same 5.2L supercharged V8 that will serve the next Mustang Shelby GT 500. This engine is conceived to deliver mind-blowing acceleration. To give you an idea, it will enable the car to cover the quarter-mile in just eight seconds, and attain a top speed of more than 250 km/h (150 mph).
Simply jaw-dropping numbers, those are!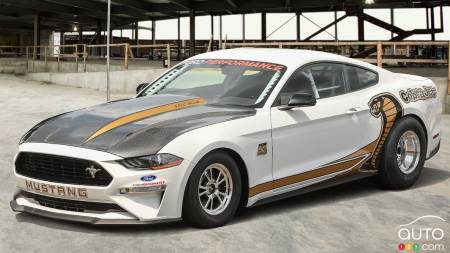 The new limited edition – its production run will be limited to 68 units – also benefit from an exclusive multi-link rear suspension. The 9-inch solid rear axle was designed by Strange Engineering, and the car gets an NHRA-certified roll cage, as well as Racetech FIA seats and Weld Recing wheels sporting special 50th anniversary badging.
Needless to say, the Cobra Jet is certified to run in races sanctioned by the NHRA (National Hot Rod Association).
It capabilities are, unsurprisingly, reflected in its price point, set at $130,000. Buyers can choose from two colour schemes, the same red or white that dressed up the original 1968 models.
The official baptism for this craziest of all Mustangs will take place next weekend during the Woodward Dream Cruise event taking place in Michigan.