Ford reached a remarkable milestone this week, with the final assembly of the 10 millionth Mustang. The setting was Ford's plant in Flat Rock, Michigan.
The specific model is a 2019 model-year GT convertible painted in Wimbledon White – the same colour that adorned the very first Mustang to roll off the assembly line back in 1964.
The cars actually have some other points in common; both come with a V8 engine and a manual transmission, for example. But the earlier model's engine produced 164 hp, while the new version kicks out 460. The number of gears in the transmission, meanwhile has doubled from three to six.
The company's press release highlighting the milestone reflects the company's obvious joy, and its pride is apparent in every word chosen to mark the occasion.
Among the many remarkable aspects of this achievement, we should highlight that the Mustang is the best-selling sports car in the U.S. over the last 50 years, according to analysis of new-vehicles registrations carried out by HIS Markit. Over the last three years, the Mustang has also been the best-selling sports car in the world.
You'll recall that Ford decided to market the Mustang on all continents when it introduced the current generation of the model in 2015.
The automaker marked the occasion in style with its employees, at company HQ in Dearborn, Michigan as well as at the Flat Rock plant. Ford Mustangs from every era were brought together in a vast area to spell out the 10,000,000 number, while three vintage P-51 Mustang fighter planes flew overhead.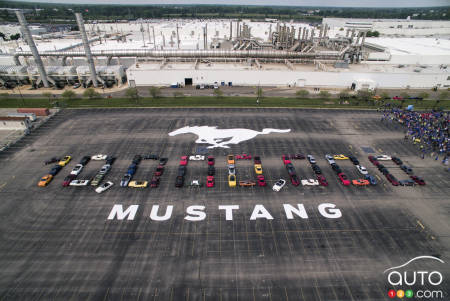 "Mustang is the heart and soul of this company and a favorite around the world. I get the same thrill seeing a Mustang roll down a street in Detroit, London or Beijing that I felt when I bought my first car – a 1966 Mustang coupe that I drove across the country as a teenager. Mustang is a smile-maker in any language."

- Jim Farley, president of global markets, Ford Motor Company
The list of cars that have survived for six decades is mighty short, and those that have sold 10 million units are few and far between.
The story of the Mustang is extraordinary, to say the least, and it is far from over.
Congratulations, Ford!