You may recall that Hyundai's mid-size sedan got a major update last year; now the Sonata lineup is complete with the debut of the model's hybrid and plug-in hybrid versions at the 2018 Chicago Auto Show. The first of these will go to market in the coming weeks, while the second should follow toward the middle of the year.
The two models come with visual updates touching on the fenders, grille, hood, trunk and front and rear light clusters, not to mention the wheels. The LED headlights have cornering ability, and the cabin houses a more user-friendly instrument cluster, new steering wheel (available heated), optimized navigation system and available wireless charging deck.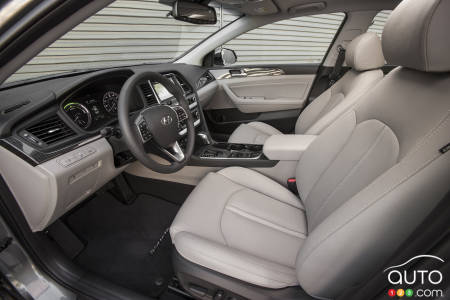 On the road, expect an improved drive thanks to the recalibrated steering that offers accrued assistance, stiffer front anti-roll bar and reworked rear suspension that enhances the car's agility. The standard blind-spot detection with rear cross-traffic alert and lane change assist can be supplemented by the available automatic emergency braking and lane keep assist.
The 2018 Hyundai Sonata Hybrid operates on a 2.0L 4-cylinder gasoline engine backed by a 38-kW electric motor. The total output of 193 hp is harnessed by a 6-speed automatic transmission (unlike the majority of hybrid cars, which rely on a CVT transmission). The Hyundai gearbox benefits from a number of technical innovations that maximize the efficiency of the powertrain and enable all-electric driving at speeds of up to 120 km/h. Fuel consumption figures for Canada remain to be confirmed, but Hyundai is promising a total range of up to 1,045 km in normal conditions.
The 1.76 kWh lithium-ion polymer battery is situated under the floor of the trunk, which can hold 377 litres of cargo. This total can be increased by folding down the 60/40 split rear seats.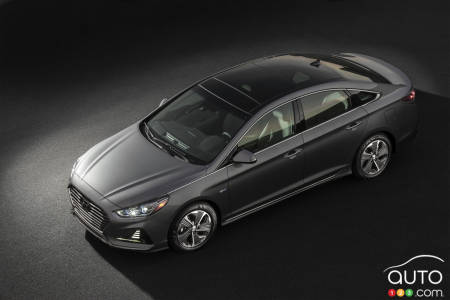 For its part, the 2018 Hyundai Sonata Plug-In Hybrid is slightly more powerful (202 hp) and comes with 50 kW electric motor powered by a 9.8 kWh battery, giving it an electric range of roughly 43 km, and a total range in the neighborhood of 950 km. Charging time is under three hours at a 240V charging station; the user can program that charge using Hyundai's BlueLink application.
We road tested the 2018 Hyundai Sonata last fall, and we will definitely be putting the new Hybrid and Plug-In Hybrid versions to the test in the coming months. Stay tuned!