A few months after the launch of the new 2017 Subaru Impreza, the Japanese manufacturer's 2018 models are making their appearance. Here's an overview of our recent articles and reviews as well as some eye-catching videos.
2018 Subaru Crosstrek
The all-new second-generation Crosstrek sub-compact crossover was unveiled in Geneva in March. It arrives in North America with the firm intention of making room for itself in a highly competitive market segment, armed with a new global platform that delivers improved performance, safety, capabilities and comfort. In Canada the 2018 Subaru Crosstrek will be available in four trims: Convenience, Touring, Sport and Limited. The first of those is a new entry-model version that offers consumers maximum value, through the inclusion of a generous list of standard features.
2018 Subaru Forester
Canada's Utility Vehicle of the Year for 2017 continues to make its main selling points performance, durability and safety. The 2018 Subaru Forester arrives at Canadian dealerships this month armed with a few key improvements, without the price point changing.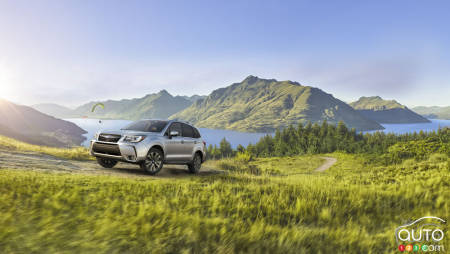 2018 Subaru Outback
The updated wagon, which had its world premiere in New York in April, is expected at dealerships in Canada over the course of the summer. Sporting a more rugged-looking silhouette, the 2018 Subaru Outback is, according to the manufacturer, safer and more comfortable, while featuring new multimedia functionalities. The CVT transmission, meanwhile, has been made smoother.
2018 Subaru Legacy
Revealed in a world premiere in Chicago this past winter, the new 2018 Subaru Legacy has been updated in terms of its design, its comfort and safety levels and the technologies it comes with. Other improvements include a more responsive CVT transmission box that allows for smoother acceleration. Consumers in Canada will have access to it starting this summer.
2018 Subaru WRX
Substantially revised and improved, the 2018 Subaru WRX will be available in Canada starting this month, with an unchanged MSRP of $29,995. It was first shown in North America at the 2017 North American International Auto Show in Detroit alongside the WRX STI, itself the beneficiary of similar upgrades. Even more nimble than before, it's perfectly equipped to provide driving fun galore on the road and on the track.
2018 Subaru WRX STI
This rally specialist will arrive on the Canadian market at the beginning of summer with an MSRP of $39,495, just slightly up from the 2017 edition. Powered by a 305-hp BOXER engine, the 2018 WRX STI features a revised multi-mode driver controlled centre differential, an Active Torque Vectoring system that improves the car's performance when cornering and new, larger brakes with high-performance ABS. It also comes with optimized suspension tuning.