In retrospect, General Motors's decision two years ago to add its new Envision luxury compact crossover to the Buick lineup in Canada was a decidedly smart one. But while it has proven popular among consumers here, the 2019 edition of the Buick Envision, compelled to respond to the challenge of rivals like the Acura RDX and the Lincoln MKC, is getting a series of improvements, based on comments and feedback provided by current Envision owners.
The company's aim is to do more to attract the attention of consumers who might be considering a Buick for the first time, or who want more space and amenities in their crossover.
More refined design
The 2019 Buick Envision has undergone modest redesigns to its front and rear ends, starting with the distinctive grille that represents the new Buick signature, along with alloy wheels (up to 19 inches in diameter). LED-accented high-intensity headlights are offered standard, with higher trims getting full LED headlights.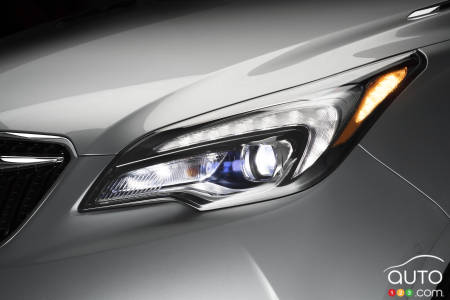 Inside, the heated sates warm up more quickly than before. An improved microphone improves the voice recognition function and enables clearer phone communication. The optional wireless charging system has also been made quicker and more powerful.
Improved performance, safety
The base engine of the 2019 Buick Envision remains unchanged; the 2.5L 4-cylinder generates 197 hp and 192 lb-ft of torque. All wheel drive is again offered as standard equipment. For its part, however, the available 2.0L turbo engine has seen its output boosted, its 252 hp and 295 lb-ft of torque (+35) managed by a new 9-speed automatic transmission. The stop-start function is not new but it has been tweaked to make it more fluid, plus drivers can no actually deactivate it – a first for a Buick in North America.
As regards safety systems, the driver of the 2019 Envision will be choose between conventional or adaptive cruise control. The rearview camera now offers an improved image; new functions alert the driver when optimal tire pressure has been reached and warns him or her to check the rear seats before leaving the vehicle to prevent any children or pets from being forgotten.
Pricing?
The 2019 Buick Envision will be available in Canada by the end of spring, and will come in four versions, pricing for which is:
- Preferred at $39,995
- Essence at $43,995
- Premium at $47,095
- Premium II at $50,995