GM had already announced that it was reviving the Tripower name, once used to designate a configuration using three twin-barrel carburetors in certain engines of Pontiac vehicles in the 1960s.
Rest assured, however: the carburetor is not about to make a comeback.
Rather, GM is recycling the term to describe a trio of technologies incorporated in the new 2.7L 4-cylinder turbo that the company is placing under the hood of its 2019 full-size pickups, namely the Chevrolet Silverado and the GMC Sierra.
The three systems have one goal: to minimize fuel consumption as much as possible. First off, the already-known cylinder deactivation system, which cuts half of the cylinders in a 4-cylinder engine bloc when the situation permits it (stable speed, light or no load, etc.). As soon as the engine is called on to work harder, the cylinders kick in again.
The second technology has to do with management of engine heat. In a nutshell, each component is maintained at its optimal operating temperature at all times.
The last component of Tripower, 2018 version, is a system that controls the movement of the intake valves to improve fuel economy. This element is being given the name Valve Lift Control.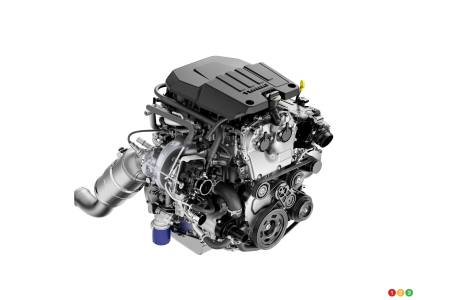 GM gave no specifics regarding fuel consumption figures for powertrains using this engine, but we should be learning all about that soon, as the models are set to launch in the coming weeks. In fact we'll be taking part in the Canadian presentation of the 2019 Chevrolet Silverado this coming September.
The 2.7L 4-cylinder twill provide the pickup with 310 hp.
If the Tripower system proves effective, we may soon see it duplicated in other of GM's large utility models.