We saw the concept version a few times over the course of the past year - including during New York's Fashion Week - but Kia finally presented its new Telluride SUV in production form at the 2019 Detroit auto show taking place this week.
Hyundai rolled out its big Palisade at the Los Angeles Auto Show in late November, and now Kia is introducing its own entry into the full-size SUV segment.
And the Telluride is definitely full-sized. In fact Kia has never produced a vehicle of these dimensions. No surprise, it is ticketed for the North American market only.
As for the styling, the Korean automaker claims inspiration from the "original" and "legendary" SUVs that gave birth to this segment. Which means the Telluride gets a very square shape… and room for a ton of people. More specifically, eight, spread out over three rows of seats.
Under the immense hood sits a 3.8L Atkinson Cycle V6 that delivers 291 hp and 262 lb-ft of torque. Owners of campers will be glad to know that the SUV can pull up to 5,000 lb. Also available is an auto-leveling suspension, which adjusts the height of the vehicle according to the load it's taking on in order to ensure optimal stability.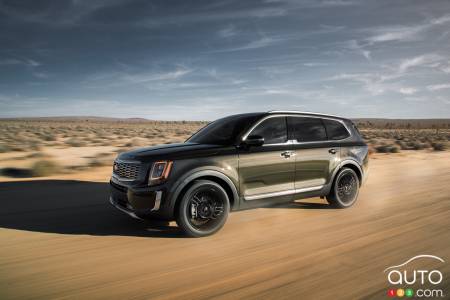 We'll refrain from delving too deeply here into the versions and their equipment levels, as the Canadian editions could vary. Stay tuned…
We do know for sure that all versions of the Telluride will feature drive modes, which after all is quickly becoming the norm in the industry. In the case of Kia's new SUV, selecting Comfort and Snow modes boosts torque for the rear wheels only by 20%. Opting for the Sport mode, power is distributed to the front in a 65% ratio. The Lock mode gives a 50-50 ratio.
The interior is luxury-focused, which is to be expected in a model that will sit at the top of the carmaker's hierarchy. The list of equipment included is comprehensive, both in terms of connectivity and of safety.
Pricing for the new 2020 Kia Telluride will be announced as the go-to-market date approaches later this year.