We discovered the next-gen 2020 Porsche 911 in its coupe version at the most recent Los Angeles Auto Show in November. Now, six weeks later, it's the cabriolet's version to step on to centre stage.
While most of the elements found here reprise what we saw proposed in the coupe, a few notable features have been added for the soft top.
The first versions to be built and sold will be the Carrera S and Carrera 4S, like in the case of the coupe. They will also inherit the same mechanics, based on a 3.0L 6-cylinder turbo with an output of 443 hp and 390 lb-ft of torque. These represent gains of 23 and 22, respectively, in comparison with the outgoing model.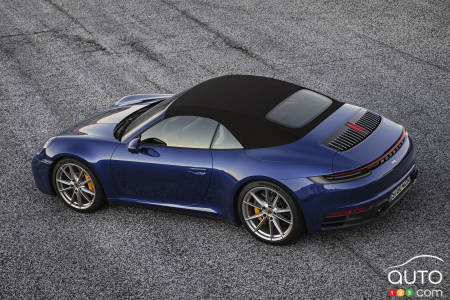 A dual-clutch 8-speed automatic will be the only transmission offered at launch, but a 7-speed manual gearbox is expected to join the product offering a little further down the road. As for the 0-100 km/h trick, Porsche says the new 911 cabriolet can do it in 3.9 seconds, or 3.8 seconds for the four-wheel-drive-equipped 4S.
Stylistically we're looking at a repeat of the coupe. One thing worth noting is the omnipresence of aluminum everywhere but the nose and the rear section. A new roof, bigger than before to reflect the larger dimensions of the model, sits over the interior. Thanks to a new hydraulic mechanism, that roof can be opened and closed more quickly, doing the trick in just 12 seconds. What's more the manoeuvre can be done while the car is moving at a speed of up to 50 km/h.
Mechanically, buyers will, for the first time, be able to opt for the PASM (Porsche Active Suspension Management) adaptive sport suspension system, which features stiffer shocks and anti-roll bars and allows for adjusting the settings to fit the road conditions or the driver's mood.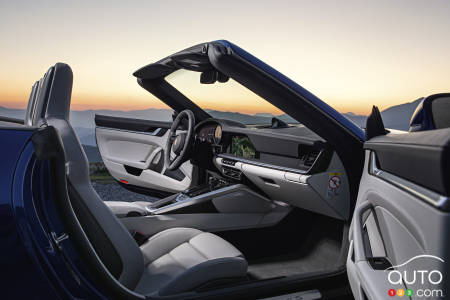 As well, the 911 cabriolet will come with a standard Wet mode, which can detect water on the road surface in order to adjust the control systems and alert the driver, who can then adjust the car's driving parameters accordingly.
Inside, much is as it is in the coupe versions. What's most remarkable in comparison with the outgoing generation is the presence of a 10.9-inch screen replacing the old 7-inch unit. The optional 18-way-adjustable seats provide improved comfort and lateral support, says Porsche.
As for pricing, Porsche Canada has announced $143,700 for the Carrera S Cabriolet, and $152,100 for the Carrera 4S Cabriolet.
Both models are expected at dealerships starting in the last quarter of 2019.
Article by Auto123.com