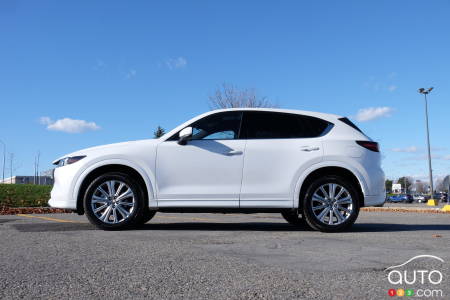 • Auto123 reviews the 2023 Mazda CX-5.
• The model remains as dynamic and fresh to drive as ever.
• The competition in the compact SUV segment is fiercer than ever, however.
• That competition now even includes its own stablemate, the CX-50.
The CX-5 has long been known as the funnest compact SUV to drive outside the luxury brands. And with reason. Those exterior good looks of its (which haven't changed much in years, because why mess with a good thing) are matched by seductive road handling.
The model faces increasingly stiff competition in the compact SUV segment, including from within, in the form of the new CX-50 SUV, a more rugged adjunct. Will that cut into the CX-5's sales? Probably a little.
Browse cars for sale available near you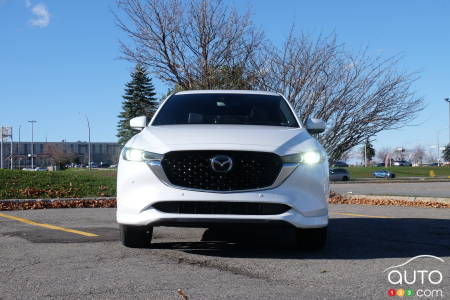 What's new
There isn't much different of note with the 2023 edition compared to last year. There's a new Rhodium White Metallic exterior finish in the offering, and fuel economy has been addressed with the introduction of a cylinder-deactivation function.
Starting price for the entry-level CX-5 is set at $32,850, not counting $1,950 in fees. Pricing climbs from there to $45,850 for the Signature edition, our tester and the model with which Mazda hopes to poach away some premium-brand SUV buyers.
What you see here is the Signature sitting on its 19-inch wheels, but know that the base model rides on 17-inch rims. Our tester had a sunroof (standard, except on the bottom two trims).
Inside, the multimedia screen is 10.25 inches diagonally, and the Signature edition features nice touches like metal accents on the steering wheel and on the climate-control vents, as well as stitching on the dash covering.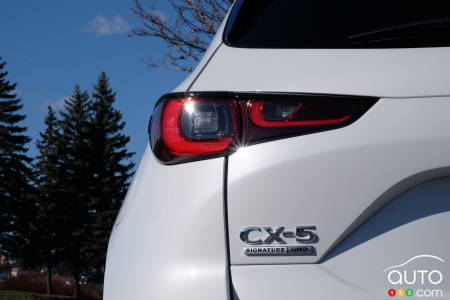 Well-equipped
The CX-5 earned the IIHS' best possible Top Safety Pick+ rating for this year. Mazda has equipped the SUV (in all versions) with all the requisite features you'd expect, for instance emergency front braking with pedestrian detection, blind-spot monitoring with rear cross-traffic alert, adaptive cruise control and a wide-angle backup camera. On the Signature you also get emergency rear braking, 360-degree camera angles, front/rear parking sensors and driver attention alert.
Standard across the range are rain-sensing wipers, an acoustic windshield and front windows, heated front seats and Apple CarPlay and Android Auto (though not wireless). Depending on which version you choose, you also get an auto-dimming rearview mirror, dual-zone climate control, heated steering wheel, ventilated seats, heated rear seats, proximity key, leather seating, adaptive headlights, heads-up display, a premium audio system and a power tailgate. Again, the Signature version throws more in, including wood trim, Nappa leather, LED interior lighting, navigation and satellite radio.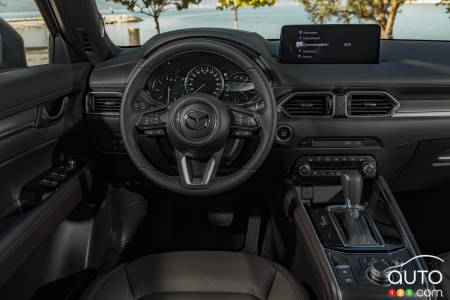 The interior
The CX-5 is roomy for the compact SUV category, including, crucially, in the back row of seats. Head-, shoulder- and leg-room felt sufficient for four adults, and five is more than possible as well. The seating is comfortable as well, especially in this Signature version with its soft Nappa covering. Overall, the cabin delivered a quiet ride.
As for cargo space, the CX-5 has a big tailgate opening, practical for getting bulkier items in. To that end, you can fold the 40/20/40-split rear seats down (almost) flat. There isn't a ton of storage space elsewhere in the cabin, mind you, but overall, we had no complaints about the practicality of this compact SUV's ergonomics when it came to transporting stuff.
The 2023 CS-5 is rated to tow a maximum of 2,000 lb, or 907 kg.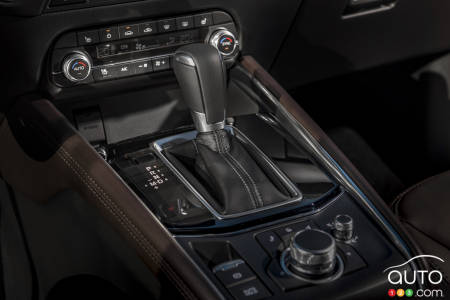 User-friendliness
You'll find both physical and onscreen buttons for most of the main commands. The climate control system is managed via buttons and dials, and there are physical buttons for the heated and ventilated seats and heated steering wheel. Otherwise, the infotainment stuff is controlled mainly via a turn-wheel on the base of the central console, so if you insist on a touchscreen for the multimedia functions, you're out of luck here.
One irritant has to do with the fob, which for all its heftiness hides the buttons on the side and makes them very small. Those who buy this car will get used to the feel of it, but at the beginning it can be annoying if you're trying to use it in a low-light area.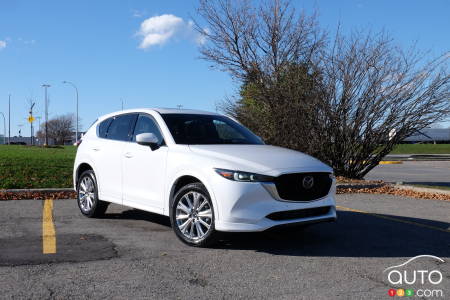 The powertrain
At base, the CX-5 is AWD and gets a naturally aspirated 2.5L 4-cylinder engine delivering 187 hp and 186 lb-ft of torque. The other option is the unit running the Sport Design Turbo and Signature editions, a turbocharged 2.5L good for 227 hp and 310 lb-ft of torque (or 256 hp and 320 lb-ft of torque when using high-octant gas). Both engines are mated to a 6-speed auto transmission.
Official consumption ratings for the 2023 Mazda CX-5 are 10.8L/100 km, 8.7L/100 km and 9.8L/100 km, city/highway/combined. Note that with the non-turbo engine, combined average consumption drops to 9.0L/100 km, thanks in part to the cylinder deactivation function. In case you're wondering, the figures are slightly higher than those of the new CX-50, but only slightly.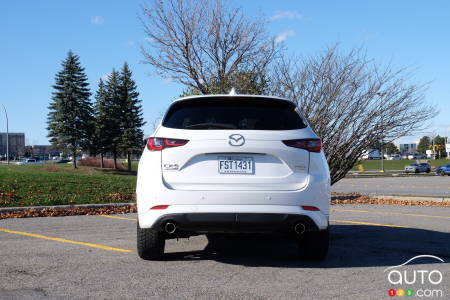 On the road
As we've seen in the past, Mazda's turbo powertrain does great work here. Initial acceleration is positive and there's enough oomph to make highway passing uneventful. The 6-speed transmission is surprisingly effective and well-, delivering linear power without any lag. Steering is sharp and responsive, and overall this feels like a very well-balanced SUV, with minimal roll for its format on curves.
The AWD system is front-biased, sending torque rearward when the system registers slipping and/or picks up other signals.
The final word
The 2023 Mazda CX-5 is not alone in the compact SUV class, not by a long shot. Not only that, but there's now competition from within, from the CX-50. That model is a bit bigger and hardier so will appeal to weekend warriors. But it's not like the 5 is terrible in that regard. And it does cost less. The model will need modernizing and a fuller updating, sooner rather than later. But it still looks good and it still delivers a dynamic drive.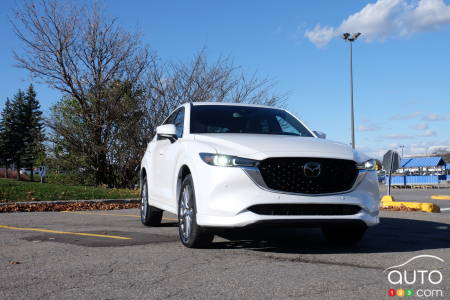 We like
Dynamic drive
Never feels heavy or sluggish
Comfortable, roomy interior
We like less
Some signs of aging
Some rivals offer more cargo space, better fuel economy, more-modern amenities
No hybrid option on the horizon
The competition
Chevrolet Equinox
Ford Escape / Bronco Sport
GMC Terrain
Honda CR-V
Hyundai Tucson
Kia Sportage
Mazda CX-50
Nissan Rogue
Subaru Forester
Toyota RAV4
Volkswagen Tiguan
A few of your questions regarding the 2023 Mazda CX-5:
What are the power and torque figures for the 2023 CX-5?
The base powertrain is good for 187 hp and 186 lb-ft of torque, while the top two trims get a turbo engine delivering 227 hp and 310 lb-ft of torque.
Is there a hybrid version of the CX-5?
In a word, no. Mazda is a bit late to the electrification game, but they are working hard to catch up. We could see a hybridized CX-5 or equivalent, just not soon.
Specifications sheet of 2023 Mazda CX-5