• The 2024 Ford Mustang Mach-E Rally is officially presented.
Ford is adding an off-road variant to the Mustang Mach-E range in 2024, the Rally declination. Purists who found it hard to accept the use of the Mustang name for an SUV won't like it, perhaps, but the company is adding a variant designed for playing in the mud.
Yes, in the mud, because that's exactly how the company describes the Rally. Mach-E's chief engineer, Donna Dickson, explains how this version went from a simple idea to reality:
"Just a year ago, this was merely an idea, and what you see today is a testament to the passion and intense creativity of our Model e team. We have always explored new areas of performance, and the combination of a rally-tuned suspension, dual motor electric powertrain, and wicked styling makes the Mustang Mach-E Rally a different kind of performance vehicle that will excite customers chasing their next adventure."

- Donna Dickson, Mach-E Chief Engineer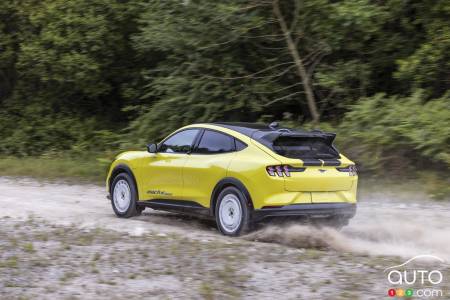 The vehicle is based on a unique suspension system that has been raised by 20 mm compared to that of the Mustang Mach-E GT. It also features springs specially designed for off-road driving, MagneRide shock absorbers and 385-mm front brake discs with red-painted Brembo calipers.
Mechanically, the Rally model benefits from an upgraded version of the GT variant's powertrain. Power is currently rated at 480 hp and torque at 650 lb-ft.
A new "RallySport" drive mode designed for off-road performance is also included. It will allow drivers to increase the yaw rate, i.e. the angle at which the rear end can slide out. A more linear response to acceleration will also be noticeable to improve the driver's level of control, according to Ford.
Company boss Jim Farley makes no secret of his enthusiasm for this version: "Mustang Mach-E Rally puts Ford's decades of passion for rally championships around the world right in the hands of our customers. It takes Mustang where it hasn't been before – to gravel and dirt roads. Inspired by true driving enthusiasts, a driving experience like never before for the pure joy of driving."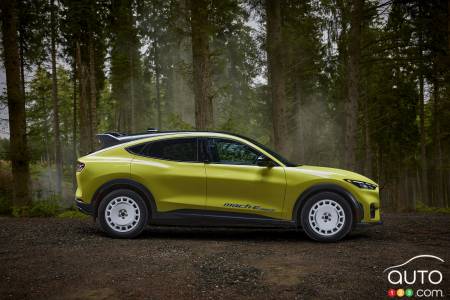 Apart from a varied colour palette, the Mach-E Rally adds 19-inch white rally-style wheels shod with Michelin CrossClimate2 tires. Under the hood, the front and rear engines are protected and, on the outside, a paint protection film is applied to the door panels and wheel arches. Mudguards are also available to protect the sides of the vehicle from rocks. An anchoring point and hook are integrated at the front to help extract those in a sticky situation, should they venture a little too far.
And it's not all about looks with this model. To test this new model, Ford set up a new rally course at its Michigan test centre, specially designed by rally-cross veterans to simulate what the vehicle might be subjected to by its owners. Engineers and technicians then tested the Mustang Mach-E Rally prototypes through over 800 km (500 miles) of durability testing to ensure they lived up to their design.