• Chevrolet unveils the Blazer EV PPV, a version designed specifically for police forces.
The Chevrolet Blazer EV is one of many new electric vehicles eagerly awaited by General Motors (GM). Among those eager to get their hands on it are police forces, who will be able to count on a version designed just for them. The automaker this week unveiled a police-ready variant of its electric SUV.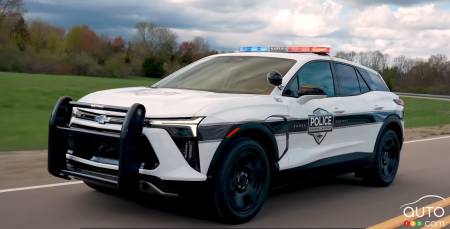 The new Blazer EV PPV (Police Pursuit Vehicles) was developed by GM Envolve, the company's division that caters to the needs of fleet customers, including police departments. Deliveries of the first units are scheduled to begin in early 2024.
GM Envolve, which also offers PPV versions of the Chevrolet Silverado and Tahoe, among others, starts accepting orders this autumn. Prices have not yet been announced.
The PPV variants come in a twin-motor, all-wheel-drive configuration and deliver 498 hp and 531 lb-ft of torque. Top speed is around 210 km/h, but this can be modified as required. Recharging capacity is given at 190 kWh. Range has not been announced. We can only guess that it will be a little less, due to the extra weight and equipment this version will carry. In any case, since we're talking about a vehicle that will be called upon to move quickly at times, range could vary wildly according to use.
Some versions of the Blazer EV are estimated to be good for around 500 km of range.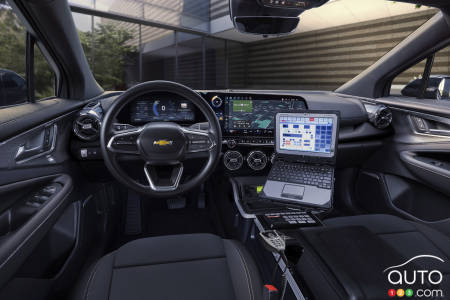 Modifications to the vehicle include a front ignition bar, additional lights, sirens, a power socket, brackets for various equipment options and steering-wheel switches to control various elements. Also available are durable vinyl seats and accents, and a special sleep mode that keeps the vehicle ready for use for up to 50 hours, with emergency equipment remaining fully charged.
To fit the specific needs of law enforcement, more robust suspension parts are present. The brakes are also equipped with 6-piston Brembo calipers and 15.3-inch front discs. These are partially hidden behind 20-inch steel rims shod with Firestone Firehawk Pursuit tires.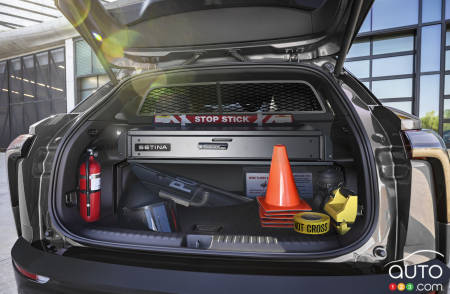 Hyper-powered electric vehicles are going to change the way police pursuits are conducted. And that's not counting the fact that officers will be able to show up silently at targeted locations, with an added element of surprise.
We're guessing the Blazer PPV models will be in use first at American police departments, then Canadian ones.