• 2024 Subaru BRZ: Return of the tS version is confirmed.
Last week, Subaru teased it would have something new to announce concerning the 2024 edition of its BRZ. That something new is the return of the tS version to the model range.
Subaru revealed the 2024 BRZ tS at yesterday's Subiefest event in California.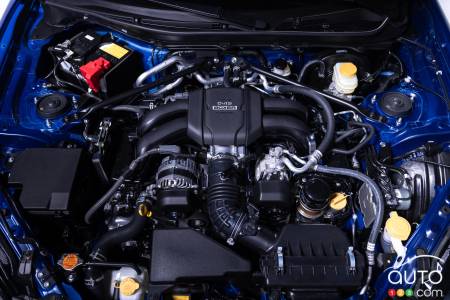 This is a performance-oriented model, but the powertrain remains the same, with a 2.4L 4-cylinder offering 228 hp.
The tS package includes brake and suspension upgrades, as well as visual elements that make the model stand out and easily recognizable on the road.
The main mechanical changes are Brembo brakes front and rear, different 18-inch wheels and a suspension set-up inspired by the STI philosophy, with Hitachi shock absorbers to boot.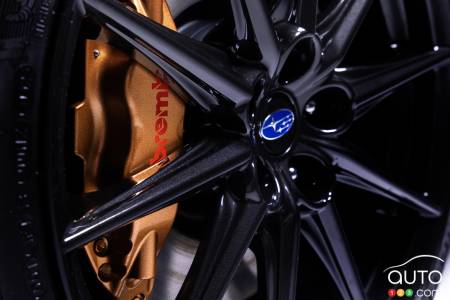 The brakes are the same (with larger rotors and higher-quality pads) as those found on the new Performance Package found on the Toyota GR86, the Subaru BRZ's cousin. We're talking about 12.8-inch discs at the front and 12.4-inch discs at the rear, i.e. 1.2 and 1.0 inches more than on the standard GR86 and BRZ.
The Subaru's Hitachi shock absorbers are different from the Toyota's Sachs. We can therefore expect different settings between the two, as well as different behavior on the road (and track).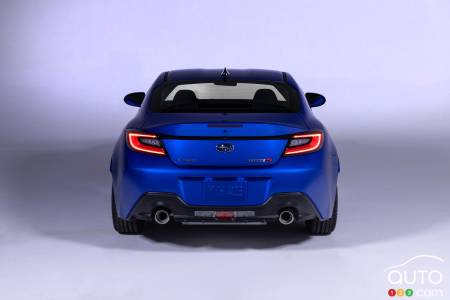 Visually, the BRZ tS gets a unique logo on the front grille and trunk lid. The brake calipers are painted gold, and the 18-inch dark gray wheels are slightly different from those seen on the regular version. Inside, the tS variant benefits from blue stitching and a touch of leather in the same shade on the seats, as well as STI logos on the starter button and dashboard.
Note that the tS variant is only available with the 6-speed manual gearbox. It will, however, benefit from Subaru's EyeSight driver assistance system, a new feature for 2024. Until now, it could only be associated with automatic-transmission models.
The BRZ tS is set to go on sale later this year. Pricing will be announced closer to the launch date.