Cadillac has confirmed that it plans to expand its V-Series performance banner, starting in 2019 with the car formerly known as the CT6 V-Sport, which will be called the CT6-V sedan.
At the same time, Cadillac will close the books on its current V-Series high-performance cars, the ATS-V and CTS-V, after the 2019 model-year. A company spokesman explained that two new sedans would step into the V lineup below the CT6.
After debuting at this year's New York auto show in March, the Cadillac CT6-V will hit the market in spring 2019. Its 4.2L twin-turbo V8 will give the car 550 hp and 627 lb-ft of torque to play with, in combination with GM's new 10-speed automatic transmission and an all-wheel-drive system.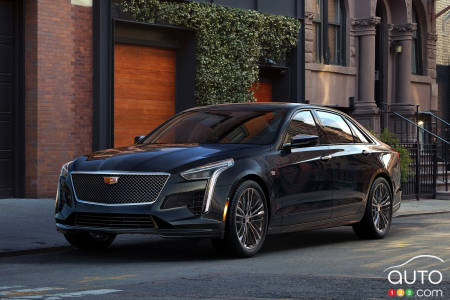 The Cadillac CT6 Platinum version will for its part get a version of that engine that is milder, though only relatively so: it will still deliver a robust 500 horses and 553 lb-ft of torque.
"Beginning with the debut of the CTS-V Sedan in 2004, the V-Series sub-brand sparked new life into Cadillac. As a result of the overwhelming response the CT6 V-Sport received when revealed in early 2018, we've decided to formally make it a V-Series, signaling the expansion of V-Series."

- Mark Reuss, executive vice president and president of GM Global Automotive Group and Cadillac
What else can we expect to see with a V designation from the luxury carmaker? Certainly a performance version of the new XT4 crossover is not a far-fetched idea, especially as a number of manufacturers are similarly gussing up their utility models. Might the upcoming car based on the brand's Escala concept get the same treatment? Or how about the entry-level CT4 and CT5 luxury sports sedans that are in the works?
"… V-Series is recognized and coveted by many as a symbol of Cadillac Performance engineering. In fact, our V-Series models outperform and often outsell their competitors. As we accelerate Cadillac's growth around the world, our V-Series will continue to expand the brand, enhance its image and attract new buyers to our showroom."

- Steve Carlisle, president of Cadillac