Ford continues to set out bait to attract interest in its upcoming next-generation Shelby GT500. The automaker has released a new overhead image of the ultra-high-performance edition of its iconic Mustang, which will compete head-on with the Hellcat variant of the Dodge Challenger.
At this rate, by the time the model launches in late 2018 fans of the celebrated Mustang will be in a veritable dizzy. All's fair in love and war, as they say…
The new photo actually graces the cover of Motor Trend magazine's July issue. Though the bird's-eye view photo shows only the top of the car, it does reveal a few elements that distinguish the GT500 from the GT350, for example heat extractors integrated in the hood and that massive wing resting on the trunk.
In March, Ford had unveiled an early image that showed a fascia sporting a Cobra emblem. This indicated that Ford might revive the GT500KR model, which first saw the light of day back in 1968. In case you're wondering, the KR in that designation refers to the expression King of the Road - a pretty self-explanatory moniker.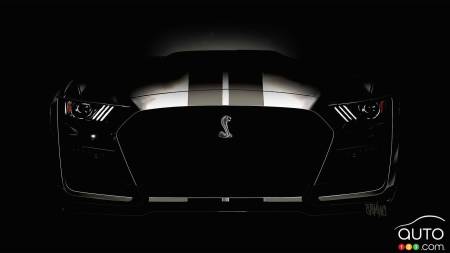 However, even if it is the front end of the future GT500 in that first image, we don't know what Ford is planning on that front. Motor Trend speculated that the V8 bloc destined for the GT500 would in fact be an improved version of the 5.2L engine already in service in the GT350. Total power output would be around 700 hp. A betting person might wager that the model will get at least 708 horses, which just happens to be one more than what the Challenger Hellcat from Dodge has to offer.
No word yet on what transmission will harness all that power. We'll have to wait and see if Ford implants its 10-speed automatic or goes another route.
The next-generation Shelby Mustang GT500 is set to debut later on this year. In theory it should launch before the end of the 2018 as a 2019 model, but it could very well appear only in early 2019. It might then get either a 2019 or 2020 model-year designation.