Notre-Dame-de-la-Merci, Quebec — Spring is at our doorstep. We can already picture ourselves digging our toes in the sand and frying to a crisp. For driving fanatics, especially those who want to perfect their abilities at the wheel, this is also the time of year to think about booking a spot next February in one of the most impressive and best-structured driving programs around: Porsche's Camp4.
Camp4, in case you're not familiar with it, is devoted to improving driving techniques, particularly on snow and on ice. It's a special school at which cold temperatures warm the souls of participants.
So why the need to book now for an event that's 10 months away? Because spots are limited and get snapped up quickly. This past February, during the few weeks that the program ran, only 460 lucky registrants were able to take part. Most of them were Canadian or American, of course, but some came from as far away as Europe, Latin American and even Australia.
For those coming from abroad, the event is also an opportunity to discover la Belle Province; the program takes place north of Montreal at the Mécaglisse complex, in the small municipality of Notre-Dame-de-la Merci. And while the majority of participants are in fact Porsche owners, this is not actually a prerequisite. According to Daniel Ponzini, Canadian spokesperson for the brand, between 10% and 15% of those taking part are non-owners, eager to use Camp4 to improve their driving techniques, and also to discover Porsche vehicles with the idea of perhaps buying one in the future. Some, of course, just want to make a dream into reality.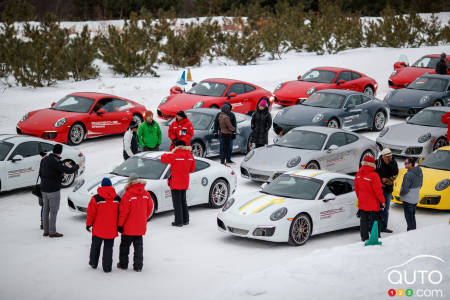 Program participants begin by attending brief theory presentations before heading onto the track, where they will spend a lot of time carrying out different exercises to develop their winter-driving skills. The goal is to maintain better control when slaloming, cornering, braking, starting on a slippery hill, spinning out, etc.
Mécaglisse has several flat, winding and hilly circuits that it makes available for the program, along with a massive skid pad. The so-called Scandinavian Flick is a particular favourite of those in attendance. This rally technique involves using a pendulum-type movement, attained via a controlled weight transfer, that allows for pivoting the car in the desired direction at the onset of a turn. It's not easy; I can personally attest to the difficulty of doing it successfully!
These exercises were performed at the wheel of a Porsche Cayman S as well as several 2-wheel and 4-wheel drive 911s, all under the supervision of experienced professional drivers like Kees Nierop, Pierre Des Marais, Jeremy Palmer, Zach Robichon and Jonathan Urlin. There's no Macan in sight, nor a Cayenne. Actually that's not true, there are some in sight but they're used exclusively as service vehicles! And that touches on another purpose of the program: to destroy the myth that a Porsche sports car must necessarily be tucked away in hibernation during the cold-weather months.
A school that is all grown up
When the Camp4 was created back in 1996, its purpose was to highlight the new all-wheel drive system that Porsche had adopted for the 911 Carrera 4 (the model was internally designated with the codename 993 by the Porsche design team). The success of the event, which took place in Finland, led Porsche to repeat the event.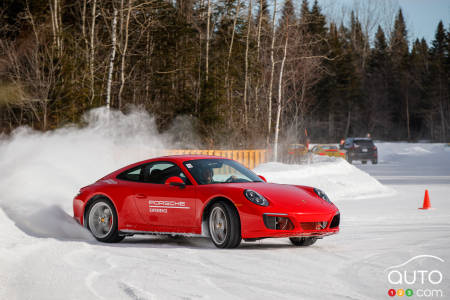 Today, Camp4 is but one component of a large-scale program called Porsche Experience, which puts on a host of activities and services related to the experience of driving the brand's vehicles. Throughout the year, there are performance driving courses held at top-flight complexes belonging to the manufacturer, which feature exceptional circuits; these are located in disparate locations like Atlanta, Le Mans, Los Angeles, Shanghai and Silverstone. These facilities also feature off-road circuits where participants can discover the little-known wilder side of the Cayenne!
Porsche Experience also puts on a wide range of tourist activities aimed at providing occasions to discover exotic regions around the world, at the wheel of a 911 or a Boxster; how about heading north in a Cayenne to the Yukon beyond where the road ends?
The Camp4 program itself has grown in leaps and bounds. That first 1996 event still takes place annually in Levi and Rovaniemi, in Finland; the Quebec iteration in Notre-Dame-de-la Merci had been in place since 2011. The program also is offered in the Italian Alps, at the Alagna and Livigno ski resorts, as well as at Yakeshi, in China's Inner Mongolia region.
Four skill levels
To respond to expectations and the different needs of the growing numbers of participants, the program is now offered at four skill levels: Camp4, Camp4S, Ice-Force et Ice-Force+.
"In Canada, these classes are organized throughout all of February, in successive waves of three-day courses. The Camp4 and Camp4S seek to hone driver's skills and precision according to tiered skill levels. Depending on the exercise, they use a Cayman S, a 911 Carrera S or a Carrera 4S. The two Ice-Force programs are closer to the world of car-racing. And in fact, participants drive 911 Turbo, Turbo S and GT3 models, again depending on the exercise. It's very exciting!"
- Daniel Ponzini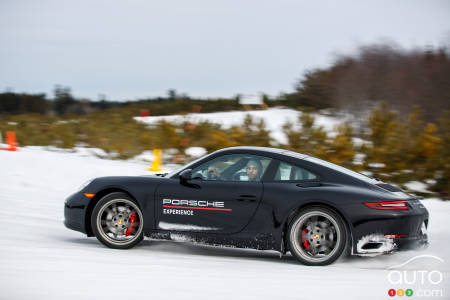 Also worth mentioning is the base camp for the Quebec program, the Estérel hotel complex. Nestled in the beautiful Laurentian mountains, a 30-minute drive from Mécaglisse, the establishment is bordered by two lakes and kilometres of forest, and offers high-end gastronomy and a modern decor that fits quite nicely with the Porsche image.
The programs, it should be mentioned, are not easily accessible to everyone. The 2018 packages for Camp4 and 4S were offered at $5,495 and $6,795, respectively. As for the Ice-Force and Ice-Force+ programs, they set participants back $7,995 and $10,745. These prices include accommodation, meals and transportation between the hotel complex and the Mécaglisse centre.
Hefty as the price tag is, the program is highly popular. This year, every one of the Canadian programs were full to capacity. Daniel Ponzini told us that registration for next season begins this May, and he added that all spots for the Camp4 and 4S programs would likely be taken by November. The two Ice-Force programs? Last year they were all full by September!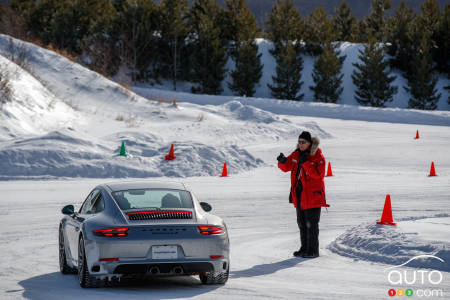 So if you want to make sure you can get your name in to take part, now's the time to move on it. Start by checking out the Porsche Experience website.
"Camp4 helps motorists improve their driving techniques all while discovering the virtues of Porsche products accompanied by impassioned instructors, who are there to help them progress. These training programs demand serious dedication on the part of participants, but in return they deliver some serious fun!"
- Daniel Ponzini