Quebec City
- The organizers of the Quebec City Auto Show are fond of innovation and enjoy surprising their visitors. Following the recent trend, they've chosen to enable visitors to get up close and personal with some of the electric vehicles currently making headlines, four vehicles that have been developed in Québec or that are produced with the help of considerable local support.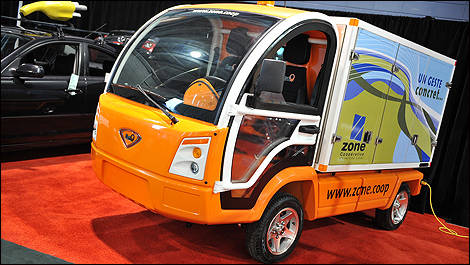 Nemo
Nemo - without the wale
The Nemo MUST HD2 is a small utility vehicle in the low-speed category (LSV) designed to satisfy the whims of contractors and towns alike. It boasts a number a features that could well make it an indispensable companion: driven by electricity, it produces zero emissions or noise and, according to its maker, is 100% recyclable.
Despite its compact format, it has a payload of 453 kilos and is built on a platform 2.1 metres in length. Also available is a kit to transform it into a small truck, with canvas covering a set of roll bars.
Nemo's operating range can reach 115 km, and it can zip along at a maximum of 40 km/h. The manufacturer says its daily operating cost is $0.75. An ideal workhorse for the farm, gardening centres, factories and construction sites.
Nemo was developed and is assembled in Sainte-Thérèse, on the outskirts of Montreal.
More than just a Mazda3
At first glance, the compact sedan introduced by the Electric Cars of Québec association (ECQ) could pass for a pedestrian Mazda3. However, a sticker proclaiming "This vehicle is 100% electric" gives it away.
The ECQ-modified car represents a viable alternative for day-to-day use. In point of fact, most motorists don't cover more than 40 or 50 kilometres on their daily commute. An electric-drive vehicle with a 100-km operating range, like this Mazda3, might be just the thing. What's more, as it reaches tops speeds of 120 km/h, it doesn't fall into the LSV category and thus isn't limited to 50 km/h zones or less.
ECQ's directors estimate that "refuelling" the electric car would cost less than $2, and that it could be completely recharged in under 10 hours.
ECQ can produce such a Mazda3 for around $20,000. However, the company can also modify a wide variety of vehicles, from pickup trucks to performance cars.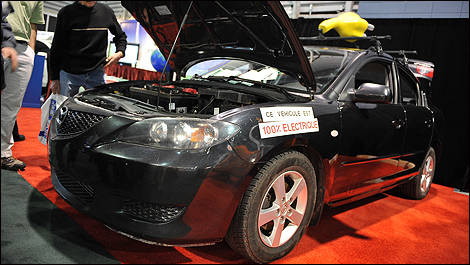 100% electric Mazda3