Quebec City
- For 2009,
Quebec Auto Show
organizers again strived to bring as many new products as possible under the same roof. Automakers were happy to oblige and, as a result, no fewer than nine models are making their provincial debut in "
La Vieille Capitale
."
Spotlight on South Korea
The company with the largest number of new vehicles on hand is most definitely Kia. The
2010 Forte
compact sedan is a Korean alternative to segment leaders such as the
Honda Civic
and
Mazda3
. It replaces the Spectra and will hit the market by the end of the year.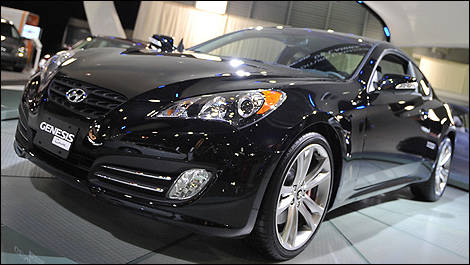 Hyundai Genesis coupe
Kia also took advantage of the spotlight to showcase the Koup Concept, which will reportedly spawn a production variant at some point this summer. The new Soul compact crossover is also on hand; however, this time, fans can actually sit inside (that wasn't the case at the Montreal Auto Show, in January).
The Hyundai Genesis Coupe is another brand-new model making its first appearance on Quebec soil. Why Quebec City instead of Montreal? "That's simple: the Canadian premiere of the Genesis Coupe was in Toronto, in February. So, the only possible landing spot in Quebec was right here," explains Jean-François Provost, spokesman for Hyundai Canada. "People have to understand that consumers of the Greater Quebec City area are absolutely fond of sports coupes. It was imperative that the new Genesis made a stop here."
Attractive Japanese
Subaru Canada's Claude Labelle took the stage to present a new application for the company's PZEV technology (Partial Zero Emissions Vehicle). After the Legacy and Outback wagons, this advanced emission-reducing system now finds its way into the next-generation Forester SUV.
According to Mr. Labelle, PZEV sales are off to a good start, with most of the interest coming from fleet managers. "Quebec drivers are not insensitive to greenhouse gas reduction, which is what our technology helps to achieve in a big way," he says. Unfortunately, few seem to be getting Subaru's message.
Meanwhile, Mazda is introducing a new cabriolet just in time for the warm season: the 2010 MX-5. This little roadster sports a redesigned front fascia that's more in line with the rest of the lineup. It also boasts many new safety features along with added equipment on some models.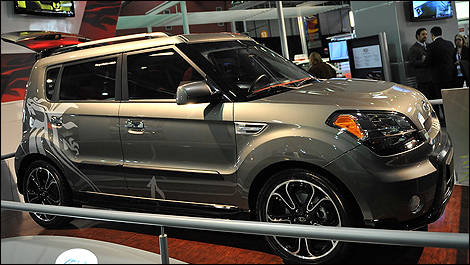 Kia Soul