Quebec City -
With the 2009 Quebec Auto Show in full swing, the
Corporation des concessionnaires automobiles de la régionale de Québec
(CCARQ) announced that its general manager, Richard Bélanger, will step down in a few weeks. He will be replaced by Bernard Ferland, who made his mark over the last couple of years as a member of the city's Junior Chamber of Commerce.
Always part of the auto world
Richard Bélanger has been actively involved in the auto industry for quite a long time. "His whole career has revolved around automobiles," insists Francine Arbour, executive secretary of the CCARQ. He was the head of the corporation since 2002. Before that, he worked 22 years for
CAA-Québec
.
We recently chatted with Mr. Bélanger and found a man deeply passionate about the industry. According to him, the evolution of the relationship between cars and technology has been a focal point, especially when considering the non-stop adjustments auto dealerships had to make throughout history.
As general manager of the CCARQ, Mr. Bélanger devoted a lot of time and effort into changing the negative way most consumers perceive car dealers, salespeople and customer service. He's proud of the fact that public mentalities have noticeably evolved in recent years and sees his contribution as a legacy to successors.
Encouraging social responsibility
Richard Bélanger is also proud of all the initiatives he has helped develop to ensure the CCARQ is involved in the community. By organizing a number of special activities, like the charity fundraising on the auto show's eve, dealers from the Greater Quebec City area have significantly contributed to improving public health and welfare.
Yet, Mr. Bélanger won't stop there. He plans to escape from Quebec winters and fully live his other passions, including motorcycles and golf. A philanthropist, he also wishes to maintain his social responsibility by doing voluntary work for charitable organizations or the elderly -- his decision has yet to be made. For the time being, he simply wants to enjoy a few months of retirement before diving into a new venture.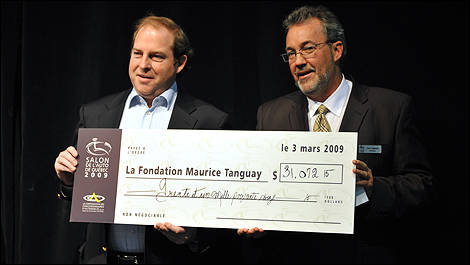 For 2009, the organizers of the Quebec Auto Show handed a check of $31,072 to the Maurice Tanguay Foundation, which helps charitable groups and families working with sick or handicapped children.
photo:
Matthieu Lambert