Quebec City -
The province of Quebec represents Kia's biggest market in Canada. The Korean automaker has staked a lot on the 2009 Quebec City Auto Show, as it coincides with the arrival of some big players: the new
Soul
crossover and the
Forte
compact sedan. And by adding to the
Koup
to its list of newcomers, Kia Canada's managers are hoping to pull off quite a - coup!
As patron of the event, the president and CEO of Kia Canada, Jay Chung, donated $10,000 to the Maurice Tanguay Foundation, bringing the total donation made by the CCARQ to the foundation to $31,072.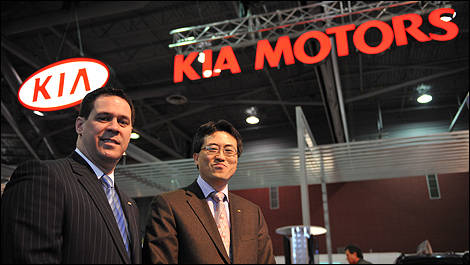 Jay Chung (r.), Kia Canada's CEO, and Alain Dionne, his Québec Zone Manager.
An important market in Quebec
Kia Canada's sales have progressed rapidly in the Quebec market, where a third of its Canadian dealers (51 out of 155) sold 40% of its products in 2008, or 12,159 vehicles.
And regional manager Alain Dionne believes the trend will continue. "By 2011, Kia's entire lineup will have been updated, except for the Borrego launched just a few months ago. By then, our oldest model will only have reached the middle of its lifecycle," explains Dionne.
In the next few months, three new models will be joining the ranks. In a few weeks, the Soul will make its showroom debut. The Forte compact sedan will be replacing the
Spectra
at the end of the year. And a production version of the Koup Concept, one of the stars of the Quebec show, will be unveiled in July or August. The compact coupe will share its platform with the Forte. "The production model will be very similar to the concept," promises Dionne.
New for 2010
For 2010, Kia Canada will launch the second generation of its Sorento sport SUV, which features a style very similar to the KND-4 concept.
A hybrid version of the Soul should also be added to the lineup at the end of 2010 as a 2011 model.
In the high-end niche, the
Amanti
sedan will also be replaced. We know that the
Hyundai Genesis
will be the basis for the as-yet-unnamed new model.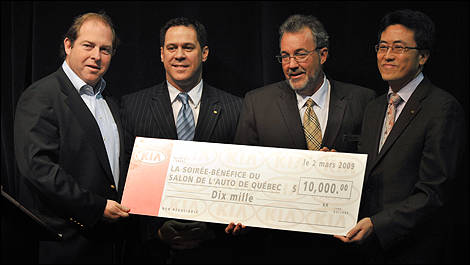 Kia Canada's CEO, Jay Chung, and regional manager, Alain Dionne, donated a cheque for $10,000 to the Maurice Tanguay Foundation. The members of the CCARQ also donated $21,072 to the same foundation this year.