Ogden, Quebec
- Terry Kell is a man of taste. As president of a leading IT company, he dreamed of creating an event that would unite his two passions: arts and cars. Well, he did it! From October 2 to 5, the small bucolic roads of Standstead, in the Eastern Townships, were swarming with exclusive and exotic vehicles because of him.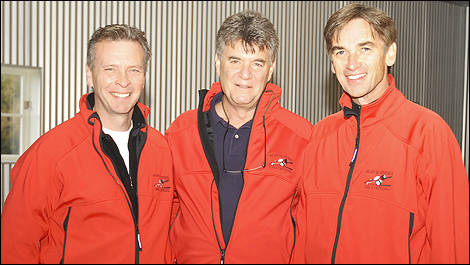 From left to right: Terry Kell, the event's instigator, Reeves Callaway, founder and owner of Callaway Cars, and Montreal designer Paul Deutschman.
"Art and the Automobile is not only a cultural event but also the culmination of a dream," explains
Alain Raymond
, one of the spokesmen who's also a writer for Auto123.com. "Terry Kell is a hardcore car enthusiast who wished to create a unique auto exhibit allowing participants to explore the Townships through a rally competition inspired from Italy's famous Mille Miglia endurance race. He also wanted to incorporate arts in the event."
A surprising display
On the weekend of October 4 and 5, everyone was invited to a special exhibition at the Davis-Kell Farm in Ogden, near Stanstead. Dozens of rare automobiles had been gathered for the occasion. "Back in their heyday, they were not necessarily the fastest or the most beautiful cars in the world, but these machines were definitely among the most influential in terms of design," says Mr. Raymond.
Fans were introduced to the Citroën DS, Kaiser Manhattan,
Alfa Romeo
Montreal and Jaguar E-Type, not to mention a collection of microcars. "Considering the price of gas nowadays, we thought it would be very interesting to showcase the evolution of the microcar from World War II to the 21st century," tells Alain Raymond, who's the proud owner of a fun-looking Fiat-Abarth.
Here, the array of models was just as exclusive as it was surprising, including an Italian Siata Spring (only a couple of units left in North America), a 1961 AMC Metropolitan (a three-seater built in England by Austin from the mid-50s to the early 60s), a strange-looking Velorex (a Czech three-wheeler with polyurethane panels assembled on a tubular frame) and the one-of-a-kind
BMW
Isetta (a "rolling egg" with a single door located... in the front!).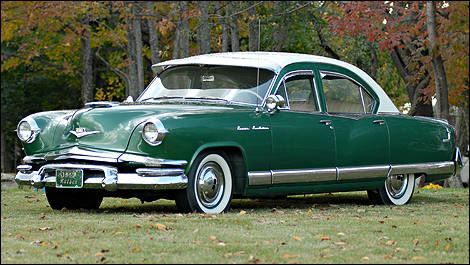 With its unorthodox design, this Kaiser Manhattan wrote a page in the history books.