Steamboat Springs, CO --
I live in a place where the air hurts my face each year for at least 5 months. And when the air hurts my face, it means it's time to change the footwear on my vehicle or more than my face is going to hurt as I careen down the road unable to stop, turn or do anything for that matter.
Winter rubber is a necessity in most North Eastern locations in North America, and in Canada there are even a few provinces where recent laws mean winter tires are obligatory and enforced between certain dates. I love that, and think more governments should instate such rules.
While I have more experience than I'd like to admit driving in snowy, wet, slushy, cold conditions, my newfound better understanding of the rubber that keeps me in a straight line has given me a profound new respect for the black boots that help me get through the snowpocalypes storms around me.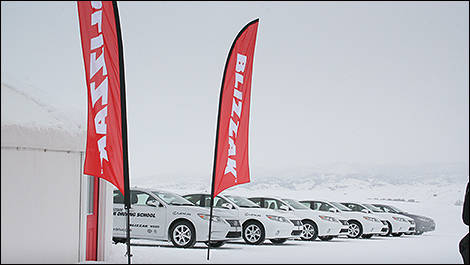 Photo: Miranda Lightstone
Why do you need winter tires?
For those of us who live in areas where temperatures can drop well below -25C for a few days at a time, all-seasons just won't cut it.
Winter tires aren't there just to evacuate snow from the road surface and give you more grip via special grooves and treads. They are also made of complex mutli-cell compounds that allow for more grip via larger contact patches (as seen on Bridgestone's Blizzak WS80s). I've walked on ice and snow before in stilettos, not fun (small contact patches), however, slap my Uggs on and I'm good to go, albeit carefully (large contact patches).
Winter tires will not be your saving grace and keep you out of all trouble in winter driving conditions. They do not perform miracles. Careful driving paired with a good set of winter tires is key to surviving winter fender-bender-free.

What qualities do you want in a winter tire?
Lots of grip. On the brand new Bridgestone Blizzak WS80 this is done via 3D Zigzag sipes and microscopic studs known as Bite Particles. The sipes aren't only found in the tread pattern, but also on the sides offering up much more lateral grip (think sliding around a corner, the Blizzaks will help snap you back and get you back to grip). The Bite Particles aid with traction for both accelrating and braking.
You also want your winter tire to keep the road clear of water/slushy snow that can cause hydroplaning. Bridgestone implemented a unique hydrophilic coating to the first 55% of its tire tread on the Blizzak WS80s to essentially wick water away from the road surface and give you more stable footing when you want and need it most.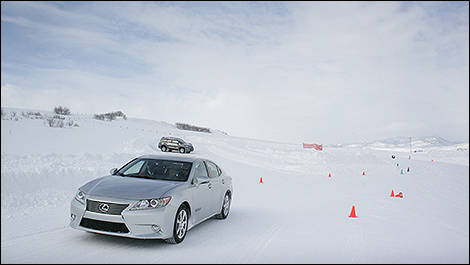 Photo: Miranda Lightstone
How do you test the abilities of a winter tire?
For starters, you have to go somewhere with enough snow and ice to prove your product is capable of what you say it is. Which is precisely why I found myself in stunning Steamboat Springs, CO at the Bridgestone Winter Driving School. On a track built on an alf-alfa field, the BWDS isn't just in an impressive location, but its also the ideal location to showcase a winter tire's strengths and weaknesses.
Behind the wheel of a 2014 Lexus ES 350, I was able to drive on both the Bridgestone Blizzak WS80s and Michelin's answer, their X-Ice i3 winter tire. While the differences aren't glaring, there are definite dissimilarities, and in the Blizzak's favour.
Lateral grip is immediately noticeable in the Blizzaks versus the Michelin's. Understeer is easier to correct with the Bridgestone tire, and cornering is more easily achieved as well.
Bridgestone also allowed us to drive a few ES 350s on an indoor hockey rink. Driving a vehicle nearly 12 mph towards the boards then slamming on the brakes is disconcerting to say the least, but it proved the stopping and starting prowess of the Blizzak WS80 over the Michelin equivalent in hard numbers as speed and stopping distances were measured for each, with the Bridgestone tire consistantly stopping in 13% shorter distances than the Michelin.
When paired up against Goodyear's latest winter tire iteration, the Blizzaks again proved more agile and confidence-building. Again, shod on the Lexus ES 350s, we took to another track with 11 rather tight and hairy corners, while snow-mageddon raged around the cars. While the Goodyear is clearly a formidable winter tire, the Bridgestone Blizzak managed to be just that much better.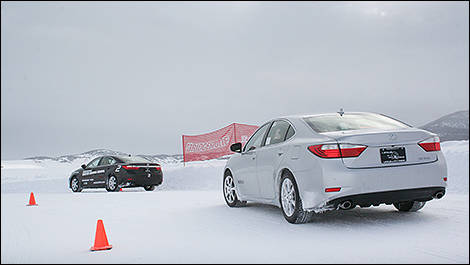 Photo: Miranda Lightstone
The importance of winter tires
Just like a good pair of winter boots, winter tires for your car are paramount in the colder months. Why don't we refer to them as "snow" tires anymore? Well, tire manufacturers have woken up to the fact that driving in the winter months isn't just about overcoming snow, there's also ice, slush, sometimes rain, dry patches of pavement, and frigid temperatures. A good winter tire will combat all of those to keep you as connected to the road as if you were driving on a sunny day in July.
Just as there really is no bad car out there, there are no bad winter tires. They all have their good and bad points, and some perform better than others in different areas of driving and under different conditions. It's important to consider what type of winter driving you do, how much, and what type of vehicle you drive, when choosing a winter tire.