Nestled amongst the hills just north of Toronto, the snow-covered Hockley Valley was the ideal setting for a recent, and rather surprising comparison test of winter rubber. However, before we get down to the results, let's take a stroll through the tire world.
Tire brands
Tire manufacturers can be sorted into 3 basic groups. Tier 1 are the household brands we've all heard of, such as Bridgestone, Michelin and Goodyear etc. Tier 2 are perhaps the slightly lesser known manufacturers (BF Goodrich, Hankook, Yokohama tec.), with Tier 3 being typically more associated with value priced products.
Certain brands specialize in one or two areas of the market, while others offer a full line of products.
Quality control plays a major role in the production of tires. Most top tier manufacturers test each and every tire as they roll off the line, while others use a form of batch testing, whereby tires are randomly selected for testing from each batch of tires produced.
Obviously, price plays a role in all this, but do those higher tier premium brand products necessarily perform better? After all, your safety is riding on just 4 small patches of rubber so surely it's wise to purchase the best tires available. I guess what I'm saying is, can quality/capability be had for a lesser price?
Well, one company believes this to be so and to prove it, Sailun invited a group of automotive journalists to blind test its new IceBlazer WSL2 against a higher priced/higher tier competitor.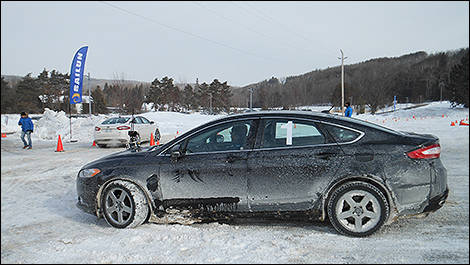 Photo: Kevin Corrigan
Sailun – A brief history on the company
Sailun is a Chinese company which has been around for 12 years now. Its products are sold in over 120 countries across 6 continents and yet, many have never heard of the name Sailun. Some may even question rubber products manufactured in China. However, the simple truth is, just about every tire manufacturer has production facilities in China today. In fact, China is rapidly becoming the world hub of the tire industry.
Sailun markets itself as a "value tire" brand, yet is proud of the fact that it tests each & every tire, just like the premium brands do.
According to Sailun, over 45% of all replacement tires purchased today are "value tires". Hardly surprising with the current economic climate. Yet with so many manufacturers in this market, no single company boasts more than a 5% share. Sailun aims to change this and position itself at the very top of the value tier. With brand awareness marketing and product comparisons against higher-priced products, the company aims to prove it can rival anything in Tier 2 and possibly a few in Tier 1 categories.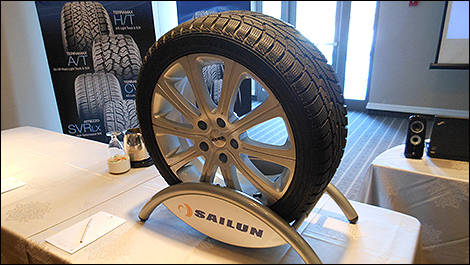 Photo: Kevin Corrigan
Sailun puts its IceBlazer WSL2 to the test
This was to be a blind evaluation, whereby both brand names/logos had been carefully removed from the sidewalls of each tire. These were then mounted on identical Ford Fusion vehicles, two white AWD models and two black. Obviously, there was some guessing done as to whether the white cars featured the Sailun tires (come on now, the good guys always dress in white), but in truth, none of us could readily identify which vehicles carried which tires.
The event was staged in three segments. The first being a snow-covered slalom run, followed by an emergency-style lane change maneuver on snow packed ice, and ended with a road course through the surrounding area. The timing couldn't have been better, as Hockley Valley had recently received a good dose of fresh snow which provided us with true real-world wintery road conditions. We even managed to find a few snow ploughs to dodge!
Test 1 – The Slalom
The first thing I picked up on, was the little noticeable difference between each set of tires. The Sailun rubber, which we later learned were mounted on the black vehicles, performed well against its competitor, the Hankook i*Pike (W409). Trying to pin down an outright winner was rather frustrating as although the Sailun tires felt better in directional grip though the cones, I slightly preferred the start-off traction of the Hankook rubber.
Test 2 – The lane change/emergency stop
Again, the Sailun tires performed noticeably better in directional grip. However, upon hard braking, although the Sailun rubber stopped marginally quicker than the Hankook, I found the Sailun tires to be slightly less predictable.
Test 3 – The road test
Out on the snow-covered hilly roads of Hockley, the Sailun IceBlazer WSL2 tires came to life. In everyday winter conditions, the Sailun-equipped cars by far outperformed its competitor. They were much quieter, stopped better and their directional prowess truly showed when rounding in the corners on deeper snow.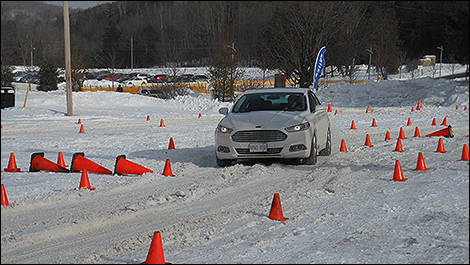 Photo: Kevin Corrigan
Conclusion
Having driven to the event in a Range Rover shod in all-seasons, both tires clearly demonstrated why drivers need to switch to dedicated winter tires when the weather turns bad. As far as comparisons go, I personally placed the Sailun marginally ahead of its competition. However, at the close of day, attendants were each asked to rate both tires on a scale of zero to five in several key areas.
The final result:
Remarkably, both tires achieved an equal rating of 4 points, so no outright winner.
On the other hand, the Hankook i*Pike (W409) rubber cost on average 69% more than the Sailun IceBlazer WSL2 tires. So perhaps there's a winner after all… the consumer!