Cadillac Targets 20,000 European Sales per Year by 2010
What do premium brands BMW and Cadillac have in common? Other than targeting a similar demographic, sporting high-tech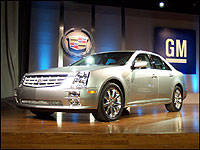 BMW is in talks with GM to form a strategic partnership for supplying common-rail, direct-injection turbodiesel engines to Cadillac. (Photo: Trevor Hofmann, Canadian Auto Press)
multivalve, dual-cam engines, sophisticated manual mode transmissions and new edge "shock 'em into signing" styling, arguably better executed by the domestic nameplate, the two companies have only recently been uttered in the same sentence.
Cadillac has come a long way in competitiveness in recent years, enough so that GM is now selling it in Europe to compete head on with BMW, Mercedes-Benz, Audi, Jaguar, and other top-tier luxury brands.
Whether BMW doesn't think its American foe poses too much of a threat in Europe, or just possibly it sees the potential to make money off of Cadillac's success too great an opportunity to pass up, but either way the German automaker is in talks with GM to form a strategic partnership for supplying common-rail,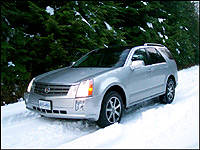 To be successful in Europe, Cadillac needs to have a diesel powerplant. (Photo: Trevor Hofmann, Canadian Auto Press)
direct-injection turbodiesel engines to Cadillac, according to a Financial Times report on Wednesday, November 24, 2004.
An alternative, if the talks don't materialize into a working relationship, would be to use engines made by GM's joint venture with Italian automaker Fiat, which are already in use by European specification Saabs. The newspaper story added that it may also be possible to integrate an Isuzu-built V6 diesel currently being used by the Opel/Vauxhall (Continental Europe/England) Vectra, which would need improvements to fit the luxury division's applications.