Toronto - This summer, a first lithium-ion full electric car will be sold in Canada and the United States. It's the Canadian-born Maya 300, a B-segment model developed by Electrovaya. The introduction was made at
2009 Canadian International Auto Show
held in Toronto.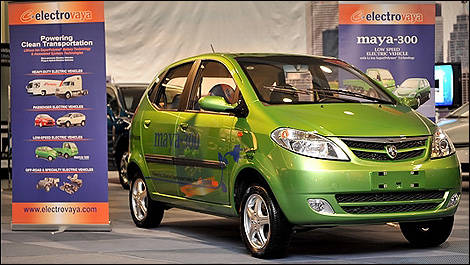 The Maya 300 electric car was developed by Ontario's Electrovaya. It will hit the market this summer.
This microcar is powered by an electric motor connected to SuperPolymer lithium-ion batteries, the latter being also designed and produced by Electrovaya. "It will be the first lithium-ion full electric car sold in North America", says Gitanjali DasGupta, Manager of the company's electric vehicle division.
The Maya 300 will hit the road as a hatchback sedan with seating for four (or five, if need be). The body is 40-centimeter shorter than a
Chevrolet Aveo5
, yet it's just as wide and even slightly taller.
It will be assembled by Electrovaya in one of its two plants, located in Mississauga, Ontario, or Malta, in the State of New York. The decision has yet to be made, said Mrs DasGupta.
"Pricing will be competitive too," assures Mrs. DasGupta. As for the other side of the border, some sources say the price will hover around $20,000USD.
Extended range
The automaker will offer two types of batteries. The first one is a 12-kWh unit with a range of 80 kilometers, while the second is an 18-kWh battery allowing a maximum of 120 kilometers. Both can be charged by plugging the vehicle into a standard 110-volt power outlet. A full charge takes somewhere between 8 and 10 hours.
The Maya meets every single standard for low-speed vehicles (LSV), which are now authorized in some of Canada's metropolitan areas, including in the province of Quebec. It also complies with similar American regulations in a number of states.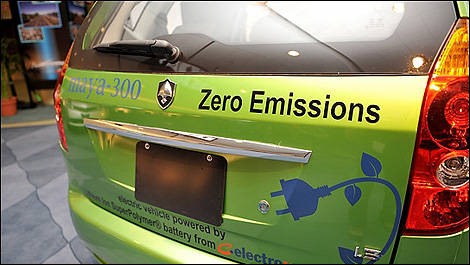 The electric motor is fed by a lithium-ion battery pack and allows a range of 80 to 120 kilometers.