Car2go autopartage, a wholly-owned subsidiary of Daimler North America, will launch its unique point-to-point carsharing model in Montreal on November 2nd, after successful debuts in
Toronto
,
Calgary
, and
Vancouver
.
An initial fleet of 250 car2go edition smart fortwo vehicles will be available for shared use in the metropolitan Montreal area, 24 hours a day, seven days a week. They will cost $0.38 per minute.
Members can pick up and drop off any Car2go anywhere within the car2go Home Area (Plateau-Mont-Royal/Rosemont-La Petite-Patrie/Côte-des-Neiges-Notre-Dame-de-Grâce and reserved parking spaces in Ville-Marie). They don't need to drive the car back to its original location nor commit to a predetermined amount of time.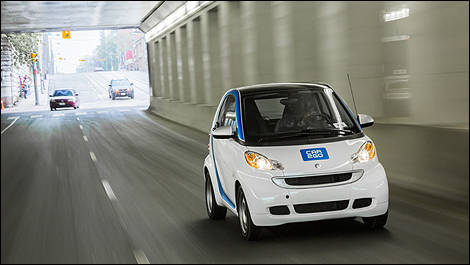 Car2go. (Photo: Daimler)
Registration for membership has already begun. For a limited time only, Car2go offers free membership and 30 free driving minutes via the promotional code "PATINS."
Car2go currently has more than 500,000 registered members worldwide. Members in Canada have the ability to use the program in all four car2go locations across the country.
Source:
Car2go