The return of both the Chevrolet Colorado and the GMC Canyon to the General Motors family has been a happy affair. In fact, the death and resurrection of the midsize pickup segment in general makes for a fascinating tale, and General Motors in particular was alert enough to both leave it and come back to it at the right times.
Two year ago, the auto giant's Chevrolet division introduced a very capable off-road variant of the Colorado, the ZR2. This year we welcomed an even more extreme version, the ZR2 Bison, which came out of a collaborative partnership between GM and AEV (American Expedition Vehicles).
If there was any doubt there was room for such an edition, it was quickly erased. The 2,000 units scheduled for production sold out within months. Unsurprisingly, the company has decided to increase production for 2020, as confirmed by AEV's director of marketing, Matt Feldermann to Muscle Cars and Trucks magazine. He declined to provide an exact figure, but the number being bandied about is 2,500.
The Bison package for the ZR2 adds to that version five skid plates, locking differentials, an elevated suspension and Multimatic DSSV dampers, as well as special 31-inch wheels. Those for whom that's not enough will be glad to learn that AEV will produce its own variant with 35-inch tires, which is in line with that company's original idea for the truck.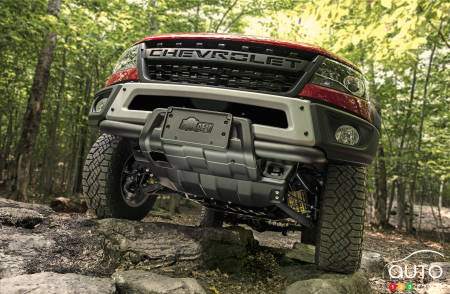 To get the Bison treatment will require a hefty financial sacrifice: $7,475 CAD. That's on top of the $48,595 required to get the ZR2 variant, and it brings the total damage to around $56,000 – before fees and taxes.
The popularity of the model, of course, is what permits this kind of asking price.