When Chevrolet launched the ZR2 version of its Colorado pickup, we discovered a vehicle with truly impressive off-road capabilities. The company then took it up a notch with a vehicle even more properly suited to all-terrain driving, the ZR2 Bison.
Born of a collaboration between GM (General Motors) and the AEV (American Expedition Vehicles) Group, the model was an immediate success. The 2,000 unit production run sold out at whiplash speed, and the company decided to build another 2,500.
Compared to a ZR2 variant of the Colorado, the Bison option adds $7,475 to the $48,595 to the price tag (in the U.S., the option goes for $5,750).
The popularity – and profit margin – of the variant has not surprisingly led GM and AEV to look at other potential collaborations. This is according to Chevrolet's head of marketing for the Silverado model, Hugh Milne, who spoke with the Muscle Cars and Trucks website.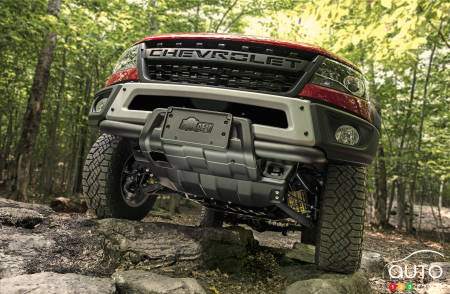 Milne had nothing to say about which models could get a similar treatment, saying only that the possibilities are endless and that none are being discounted. That, of course, is plenty enough kindling to set the rumour fires going – especially since Chevrolet does not have a direct rival to the Ford F-150 Raptor and Ram Rebel TRX in the full-size pickup segment. Speculation regarding the arrival of a ZRX version of the Silverado is already in play. It seems clear that something is up within the walls of GM HQ.
And if GM and AEV do collaborate to give birth to an extreme off-road version of the Silverado, we expect it to be quite distinct from what Ford has done with its Raptor. While that model is designed for driving at speed in the desert, AEV, as we've seen with the Bison, focuses its efforts on low-speed capabilities in truly hostile territory.
We hope to learn more about the companies' plans by loitering around the Chevrolet stand at the Los Angeles Auto Show this week.
Stay tuned.