The Chrysler Pacifica has been rewarded by both consumers and automotive journalists and organizations since its debut – particularly the plug-in hybrid variant. The latter in fact competes in a category of… one. But there's one element missing in the model in relation to at least one of its minivan competitors: all-wheel drive. Or one minivan, period. In the declining minivan segment, only the Toyota Sienna can currently be had with power going to four wheels.
New reports, however, indicate that the Sienna could soon have company. The FCA (Fiat Chrysler automobiles) Group is looking seriously at the possibility of adding AWD to the product offering for its Pacifica.
This bit of news comes to us from Dino Chiodo, Nationwide Director of Automotive at Unifor, the union representing Canadian automotive workers, among others. Speaking with Automotive News, he said that FCA was studying the viability of adding all-wheel drive to the minivan. Two other anonymous sources told the same outlet that they learned the company plans to go ahead with the plan. One of those sources works for a supplier and has been working on developing a part that would be a component of an AWD system for a Chrysler minivan.
Production of the AWD model could start as soon as the second quarter of 2020.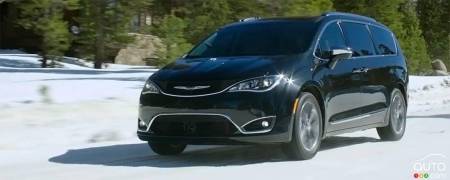 Nothing concrete
Solid as the information seems to be regarding Chrysler's plan for its Pacifica, a spokesperson for FCA Canada, LuAnn Gosselin, said only that the company "had nothing to announce in relation to future minivan tasks".
Mike Szymkiewicz, Product Planning Supervisor at FCA Canada, had nothing to say about it either, although he did venture that AWD is a popular feature for Canadian consumers:
"I feel it's positively a possibility for our market. When you take a look at among the best autos, possibly not the standard minivan, however even among the bigger autos [trucks] you will get front-wheel drive and AWD. The speed of traction of integral traction is usually fairly excessive in all these presents; I feel it will be a possibility for us. "

- Mike Szymkiewicz
Over at Toyota, the company says that 58% of the Sienna minivans it sold last year in Canada were equipped with all-wheel drive.
Dino Chiodo made the point that while FCA is seriously studying the plan, no final decision has been made.