Making its world debut at the
2011 Geneva Auto Show
, the
Minagi
Concept car indicates the direction Mazda's future lineup will take, wrapped in the new KODO "Soul of Motion" design language and loaded with the latest in "SkyActiv" technology.
Unveiled as Mazda's most affordable crossover, the Minagi could possibly become the CX-5, fitting neatly into the lineup below the larger
CX-7
and replacing the aging
Tribute
.
The Minagi is the first concept car to feature the full range of "SkyActiv" technology, which, in short, is a philosophy of efficiency and fuel conservation all wrapped up in a tidy package.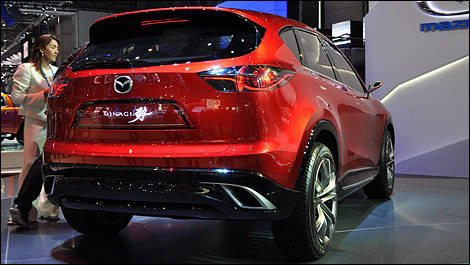 Making its world debut at the 2011 Geneva Auto Show, the Minagi Concept car indicates the direction Mazda's future lineup will take. (Photo: Mathieu St-Pierre/Auto123.com)
Mazda remains one of the last holdouts to refrain from jumping on the hybrid technology bandwagon - concentrating instead on improving its combustion engine drivetrains.
The result is SkyActiv : incorporating lightweight body structures, new high-compression diesel and gasoline engines and lighter, smaller and more efficient transmissions in both manual and automatic forms.
Mazda claims fuel savings could be as much as 30 km/litre on SkyActiv equipped vehicles, their goal – improving the company's fuel-efficiency across the lineup 30% by 2015. And yet, the company promises that none of its trademark zoom-zoom will be sacrificed to efficiency.
First introduced on the stunning Shinari Concept, Mazda's KODO "Soul of Motion" design ethos has been adapted to fit the compact crossover Minagi.
The Mazda design team apparently looked to the cheetah as an inspiration for the Minagi, to convey the impression that the crossover is "pulsating with energy" and whose coiled muscles enable it to nimbly change direction through crowded traffic.
Visually, the Minagi does look ready to pounce: there's a smooth, arcing roofline and sweeping character lines take the eye towards the rear haunches.
The prominent front fenders are another characteristic of the KODO language, which purportedly "accumulate, then release, pent-up energy". The muscular rear fenders emphasize the wheels, suggesting the legs of a predator and forming a wide, stable stance.
The carved fascia's blacked out grille opening bears a familial resemblance to the Shinari's, with a similar wing feature bisecting the slanting headlamps, designed to resemble a "wild animal's gaze".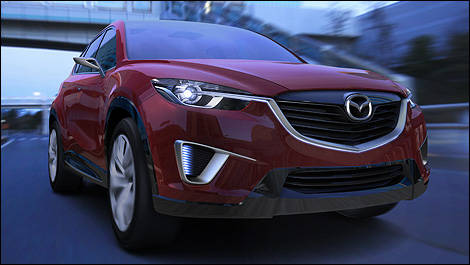 A chrome wing feature bisects the slanting headlamps that resemble a wild animal's gaze. (Photo: Mazda)