• Buyers have until the end of July to order the 2023 Dodge Charger or 2023 Dodge Challenger.
We've known for some time that the days of the Dodge Charger sedan and Dodge Challenger coupe were numbered. We also known for a while that 2023 is the last model-year for the duo. Now, we learn that Dodge will stop taking orders very soon.
Dodge confirmed it's asking its dealers to submit their final orders for both models before the end of July.
Basically, you've got two weeks left.
Assembly of the two cars ends at the end of this year, giving the company time to plan the end of production in the light of final orders. Once that's done, the Brampton, Ontario plant where the cars are currently built will be renovated to be ready to spit out all-electric models. Work is expected to be completed by 2025.
This isn't necessarily the end of the Challenger and Charger names, however; we know Dodge is planning electric performance cars, and we've already had a taste of what's to come with the Charger Daytona concept.
Before all that, for 2023, Dodge launched a series of seven Last Call editions. The most jaw-dropping of those is the Challenger SRT Demon 170 and its 1,025 hp (on E85 fuel) 0-97 km/h time of just 1.66 seconds from a standstill (with launch function).
The build slot for the last Challenger SRT Demon 170 to be assembled was sold last month for $700,000 at an auction in Las Vegas.
Madness. And just wait until these cars are no longer available for purchase; we're likely to see a frenzy on the used car market. And that's particularly likely to be the case for the 2023 models, identified as the last of their kind.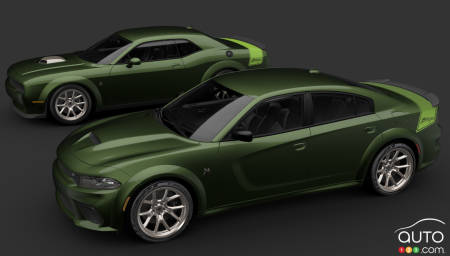 "For enthusiasts looking to order a Dodge Challenger or Charger, especially a high-horsepower model, such as the Scat Pack, SRT Hellcat or a special edition model, it's truly the last call. As we transition to an exciting, electrified muscle car future, we're marking the end of an unforgettable era for Dodge, and time is running out for those who want to own a piece of it."

- Tim Kuniskis, Dodge CEO