Scuderia Ferrari is apparently thinking about making a welcomed return to endurance racing and to the 24 Hours of Le Mans with an LMP1 car powered by a version of its new F1 turbo engine.
The prestigious Italian make has a history of success at Le Mans, though it hasn't won the big endurance race since 1965.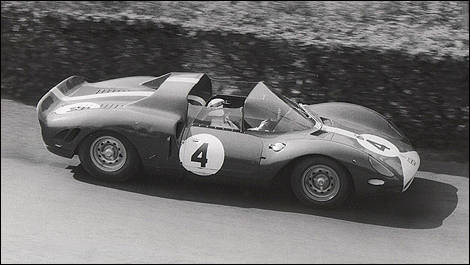 Jackie Stewart, Ferrari 250 LM, 1965 (Photo: WRI2)
Reports suggest Ferrari may apply the development of the new F1 turbo hybrid motor to an LMP1 car for Le Mans, and have it ready for the 24 Hours race in two years.
Last month, Scuderia Ferrari boss Stefano Domenicali said that the newly developed F1 engine could be used for "some interesting projects."
Antonello Coletta, who heads up the Italian manufacturer's non-F1 sporting activities, told
Autosport
magazine "there are no immediate plans" to return to endurance racing.
Coletta added that if Ferrari did join Audi, Toyota, Porsche and, most likely, Nissan in LMP1 in 2015 or beyond it would be with a full-factory effort and not just as an engine supplier.
Last week, we posted a video that showed a
LaFerrari supercar
lapping the Fiorano circuit in Maranello amid the distinct tones of a turbo engine.
We concluded at the time that the test was not to develop the 2014 F1 engine, but most probably to try out a street car engine, or endurance race car motor.