August is vacation time for many people, and for a few years now it has also meant a well-deserved break for everyone involved in the F1 circus. Design offices and engineering shops must close for about a month and let employees catch their breath before diving into the second half of the season.
I hear some fans complaining about it and lamenting the fact that the Belgian Grand Prix is too darn far away. For them, a world without F1 doesn't make sense.
However, I can assure you this four-week hiatus is crucial. With 20 races in just 36 weeks, plus all the time spent developing the new cars and putting them to the test during the winter, F1 teams inevitably grow tired at some point.
The 2013-2014 off-season will be even more intense, you know, with the arrival of turbo- hybrid V6 engines. Integrating the different energy sources to achieve maximum performance will be an extremely challenging and time-consuming process. In all likelihood, a number of teams will line up for the first Grand Prix of 2014 with a fast, yet unreliable car.
Most F1 enthusiasts who have listened to the new engines are very disappointed with its sound effects, comparing them to either a vacuum cleaner, a lawnmower or a blender -- nothing that even remotely resembles a spine-tickling V10 engine revving at nearly 20,000 rpm. Everyone will have to get used to hearing a duller, more muffled sound coming from these big turbocharged V6s with fairly complex electrical components.
Whether you like it or not, the future of F1 depends on these so-called "clean" powerplants that will burn a maximum of 100 kg of fuel per Grand Prix. This decision comes after two of the three F1 engine suppliers (Ferrari, Renault, and Mercedes) urged the FIA to make the new units as close to production engines as possible.
Let's just wait to hear them from trackside before making a final judgement, shall we? Maybe the sound won't be so bad after all...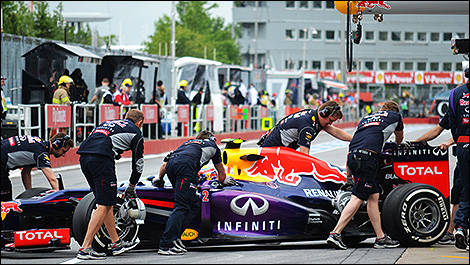 Photo: René Fagnan