Adapted from GMM
F1's 2015 'silly season' is no longer just about the drivers.
Now, it is major rumblings about the teams themselves that are making waves as the sport packs up after Lewis Hamilton's win at Monza.
Canadian billionaire Lawrence Stroll is tangled in a shocking story, started by a 'tweet' from Williams chairman Adam Parr: "This is the last year of F1 as we know it."
Parr is referring to the potential exit of three teams, which would force several teams to enter three cars.
In the midst of it all, Stroll, whose teenage son Lance is a member of the Ferrari driver academy, looks set to buy back Sauber.
Like the Swiss team, Stroll Sr has indeed strong ties with Ferrari, including a dealership and an impressive collection of road cars from Maranello.
A report from
Motorsport.com
said the deal was "as good as done".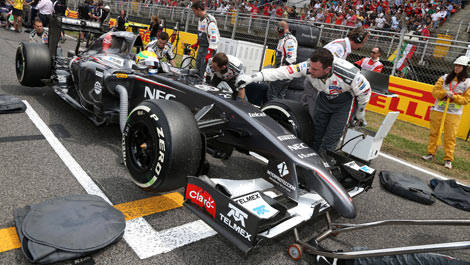 According to Motorsport.com, Canadian Lawrence Stroll has bought Sauber (Photo: WRI2)
But in the paddock, everyone was speculating over the identity of the three departing teams.
One might be Caterham, after its founder Tony Fernandes recently sold to a mysterious Swiss-Middle Eastern consortium.
The latest rumour is that the Leafield based team's newly-installed boss Christijan Albers has quit because promised funds from the new owners did not materialise.
Caterham announced on Sunday that Dutchman Albers has indeed resigned to "spend more time with my family", with Manfredi Ravetto taking over.
Also undoubtedly struggling is Marussia, who according to driver Max Chilton at Spa had resorted to trying to "sell my seat" to stay afloat.
And Lotus was strongly tipped to be moving to end its current slump by installing Mercedes power for 2015, until speculation emerged the deal has been held up because a deposit to the German marque was not paid.
But could the multiple struggling teams' potential demise, and thereby the need to boost the grid next year with third car entries, explain the recent quickfire spate of bosses meetings with Bernie Ecclestone?
Mercedes' Toto Wolff said on Friday that the latest meeting, held at Monza, was "nothing very spectacular".
"It's just another meeting we had, another important meeting."