Mercedes AMG F1 team boss Toto Wolff clearly said he was unsure about the proposed changes to the Grand Prix format.
In Montreal two weeks ago, details filtered about cost-saving plans concocted by the F1 Strategy Group to eliminate free practice 1 next season and run only one track session on Fridays in order to condense race weekends from four to three days.
The F1 Commission, ahead of the World Motor Sport Council meeting next week, which will approve rule changes for 2015, must now approve this and other proposals.
Toto Wolff explained that skipping FP1 was discussed to save money.
"In very few locations you have spectators and we could do a day of media, a day for the promoters, on the Friday and therefore oblige the drivers to do more work on the Friday.
"So the idea came up, let's not do the Friday and save engine and gearbox miles – it's about one engine a year, 3,000km on average – and that is, if not millions, it's at least a million or a million and a half," Wolff explained.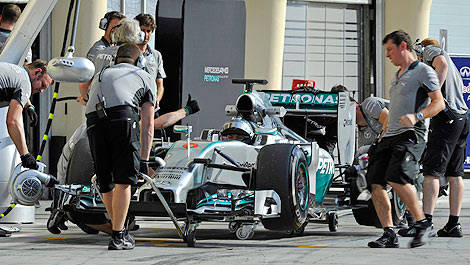 Mercedes at work during a testing day. (Photo: WRi2)
However, Wolff admitted he is unsure about the proposal as he would prefer to see more running on Fridays.
"Honestly myself I doubt whether it's the right thing because Formula 1 is the pinnacle of motorsport, this is not a weekend entertainment which starts Saturday morning, it is a proper sport," Wolff added.
"Therefore I tend to follow the opinion that the Friday should be a full-blown test day – but then you don't save any cost, you just add miles."