We've known for years that the next generation of the Ford Mustang would feature a hybrid powertrain. Up until now, however, no one really knew what form that unit would take.
The discovery of a patent drawing by AutoGuide website reveals that the engine destined for the future hybrid Mustang had 8 cylinders. This should make for some happy Mustang fans, especially those for whom a V8-less Ford Mustang is no longer really a Mustang at all.
It's true that Ford had previously made reference to a V8 unit for a future hybrid powertrain, so this latest revelation doesn't come as a total shock. The big reveal here is the presence in the system of an electrical support to increase the engine's capabilities in terms of both horsepower and torque.
The image was first filed by Ford with the U.S. Patent and Trademark Office in July 2017, but it was only published to the office's website this week.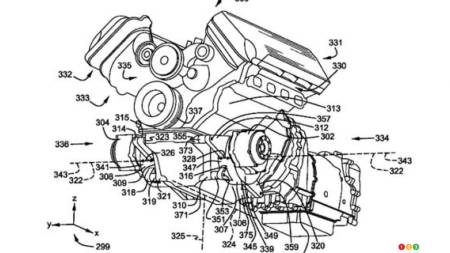 The drawing describes a two-power-source system for a hybrid vehicle. No mention is made of this being destined for the Mustang, but the fact that the drawing clearly shows a V8 configuration leaves few realistic possibilities. The bloc could also work for a hybrid Ford F-150, another product that is anticipated from Ford in the coming years.
A closer look at the drawing shows a longitudinally placed engine coupled with two electrical units, one for each of the front wheels. The combustion engine would take care of providing power to the rear wheels. If this unit does end up in the future Mustang, it would mean the first all-wheel drive car in the model's long history.
Ford is saying only that filing this kind of drawing with the patent office is just part of the routine for an automaker; beyond that, no comment.
You'll recall that last fall, a Ford-produced ad vaunting the company's building philosophy had provided a quick glimpse of what looked an awful lot like a hybrid Mustang. Where's there's smoke, we say…