FRANKFURT, Germany –
Rumours of the Defender's demise appear to have been greatly exaggerated.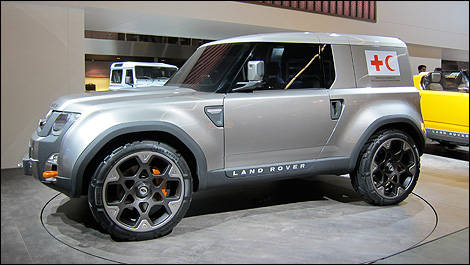 Land Rover DC100 concept (Photo: Lesley Wimbush/Auto123.com)
Making their debut at the Frankfurt Motor Show are two concepts, the
DC100
and DC100 Sport, suggesting the iconic off-roader will be back – albeit in a modernized form. It's reportedly slated for production in 2015.
Land Rover has a history that goes back more than 60 years, and the Defender was a big part of establishing that reputation for tough, go-anywhere-ness.
The familiar blocky shape is based on Land Rover's time-honoured simplicity –form following function with no cluttered surfaces. It's all vertical planes and chunky edges, with easily visible corners and a squared-off stance enabling the driver to intuitively know where each wheel and each corner of the vehicle is.
But it mixes it up with modern cues similar to the Evoque's by sporting a raked front end and windshield. And like the Defenders of old, the DC100 concept features three-across bench seating with a fold-away fourth. The cabin can be hosed down, and is upholstered in an "indestructible" material used in spacesuits. The convertible Sport version takes it one step further with a canvas top, cut-back windshield and a sort of sand-dune buggy demeanour.
Let's face it though; any Defender sold in Canada would be unlikely to venture off cultivated pavement, they're more likely to be cruising Yorkville than tackling the Dakar.
The DC100 takes that traditional heritage and mixes it up with all the technical sophistry of today. That includes a "Terrain-i scanning" system which, using a headlight scanner and corner-mounted cameras, creates a 3-D visual of the terrain and changes ride height accordingly. "Wade Aid" (who comes up with these names, anyway?) determines the depth of any water to be forded and calculates height, speed, and optimum gear. It sounds rather sacrilege… but a "Park Assist" feature is also on offer, which parallel parks the vehicle with only minimal driver input.
Both models will reportedly arrive with either a 2.0-litre gas or diesel engine coupled with a plug-in hybrid system, an eight-speed transmission and a system that automatically decouples the rear axle when not needed to conserve fuel.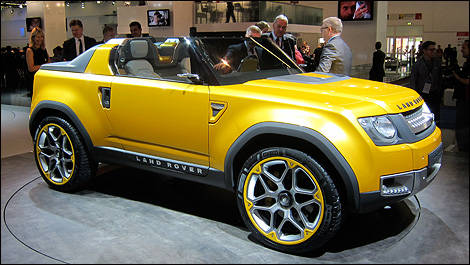 Land Rover DC100 Sport Concept (Photo: Lesley Wimbush/Auto123.com)