Of the new vehicles making their first Canadian appearance yesterday at the 2018 Montreal Auto Show, two of the models most enthusiastically welcomed by those in attendance were Hyundai's Kona and Accent 5-Door.
2018 Hyundai Kona
An all-new crossover blessed with eye-catching styling, the Kona will hit the market this spring, and slide in below the Tucson in the company's lineup. Take a moment to learn more about the Kona, and check out our brief first drive carried out last summer in South Korea.
Worth pointing out here is the choice of two engines being offered. The base engine is a 2.0L producing 147 hp and 132 lb-ft of torque via a 6-speed automatic transmission. The other available powertrain option is led by a 1.6L turbo generating 175 hp and 195 lb-ft of torque, wedded to a 7-speed dual-clutch transmission. Few of its competitors offer this kind of choice, and in addition the Kona is available with all-wheel drive, also rare in the category. Having finally seen it in the flesh this week, I appreciate its contrasting design elements even more, and I noted that its lower-body "armour" is more solid that I expected.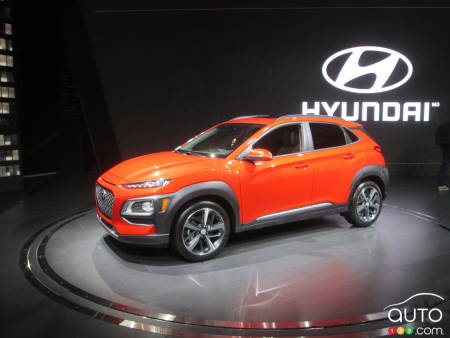 2018 Hyundai Accent 5-Door
The new 2018 edition of the Accent hatchback lacks the pretty mesh grille and European flavour of the Elantra GT, but it is still quite a bit more attractive and generally more interesting than the previous model, thanks in large part to its more sophisticated – and much quieter – cabin. The 132-hp engine consumes less fuel than before, and the car will feature advanced technologies like automatic emergency braking.
The 2018 Accent 5-Door will arrive at dealerships in the next few weeks, and Hyundai is planning to announce pricing shortly for both it and the Accent sedan, which we road tested last fall.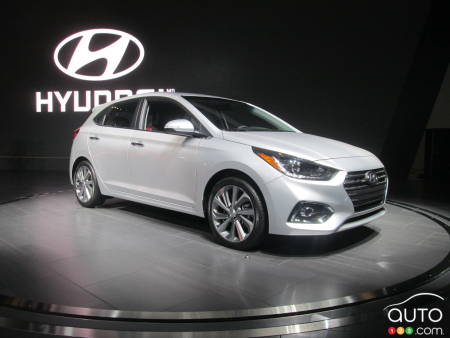 "Charge Here"
Hyundai also used the occasion of the 2018 Montreal Auto Show taking place in electric-friendly Quebec to announce the new Charge Here mobile charging service for electric vehicles. Already implemented in South Korea and in some parts of Europe, it is set to launch in Quebec this spring in the form of a pilot project centered on the Montreal region.
The idea is simple: say you and your electric car are stranded by a car battery that ran empty before you could get to a charging station. A phone call to Hyundai's roadside assistance service will send an electric IONIQ car on its way to you to recharge your vehicle sufficiently to give it 40 km of range (about 20 minutes of charging time).
"We often hear from customers hesitant to make the switch to an EV that they are concerned about range. Frankly, we can't blame them as no one wants to be stranded on the side of the road. So, with Hyundai Charge Here, we're giving EV owners peace-of-mind that Hyundai can help them get home or to a nearby charging station."

- Don Romano, President and CEO of Hyundai Auto Canada

The IONIQ "donor" vehicle is programmed to able to reverse electrical flow to send electricity from its battery through the charge port to a special trunk-mounted convertor at speeds similar to the Level 3 charging station. Charge Here is designed for use with the IONIQ EV, but the service will work any electric vehicle with a SAE J1772 Combo Charging System connector.