Korean manufacturer Hyundai has announced that it will produce a special Iron Man edition of its popular new Kona crossover. The company made the announcement in conjunction with the Comic-Con festival underway in San Diego.
Some may find such a move surprising or even needless, but there's no doubt that for the automaker this serves as a powerful marketing tool. Two years ago, Nissan presented a Star Wars edition of its Rogue SUV at the Los Angeles auto show, and it succeeded far beyond expectations. The Japanese manufacturer has continued its association with the movie franchise.
In tying its brand to that of a highly popular super hero, Hyundai is looking to reap the same kind of benefit.
The special Iron Man edition will be available to consumers in the first quarter of 2019. It will differ significantly from the regular Kona, starting with the matte grey paint finish with red accents to match the Iron Man character. Even the super hero's mask has been reproduced on the roof of the vehicle.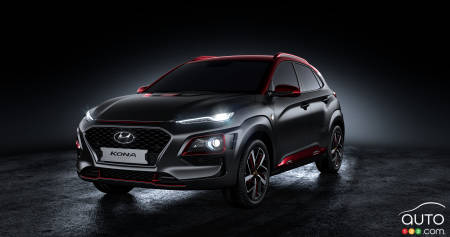 There are plenty of other references to the movie series. The headlights, for one, were designed to recreate the eyes of the Iron Man's mask. The front end is adorned with badges showing the mask as well as with a black chrome grille and a V-shaped visual element on the hood.
Stark Industry logos are placed on the rear doors, and the 18-inch wheels sport, you guessed it, the Iron Man mask. Inside the Tony Stark character's signature is features on the dashboard, the gear knob feature the Iron Man claw and the specially designed seats are also conceived in honour of the movie franchise. Even the head-up display incorporates film-inspired graphics.
Hyundai has not announced pricing for the special edition. We do know that it will be produced in limited numbers, so if you're thinking of reserving one, we suggest you visit your local Hyundai dealer promptly.
Hyundai is saying the Kona Iron Man will be distributed worldwide, which means Canadian fans of Robert Downey/Tony Stark should be able to get their hands on one.