After taking the title of Utility Vehicle of the Year for 2019 last month in Toronto, the Jaguar I-PACE completed the brace by being named AJAC's 2019 Green Utility of the Year. The announcement of the award was made by members of the Automotive Journalists' Association of Canada at the Vancouver Auto Show today.
The brand-new all-electric I-PACE was already the first EV to be named Utility Vehicle of the Year by AJAC, and now it takes the honour in the green category as well. It beat out the Chrysler Pacifica Hybrid minivan and the Mitsubishi Outlander PHEV.
"This award for Jaguar proves that the I-PACE is a truly exceptional vehicle. It's won Canada's top award for Best Utility Vehicle, based on its merits as an SUV, and now it's won Canada's top award for Best Green Utility Vehicle, based on its environmental responsibility."

- AJAC President Mark Richardson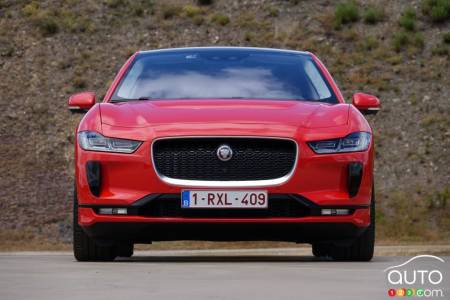 Jaguar-Land Rover, for all its well-publicized struggles to keep sales above water in several global markets, does seem to have caught the eye of award juries, and AJAC is no exception. In the past two years, four Jaguar-Land Rover vehicles have been honoured with AJAC awards: in 2018 the XE was named best small luxury car, the F-TYPE was named best premium sports car and the Range Rover Velar was deemed the best small luxury SUV. In 2019 the Jaguar I-PACE was also named Canada's best premium EV.