More than just a garage, this place is a museum, a giant archive, an art gallery, a piece of auto history and, yes, a sanctuary. It's also the playroom of a grown-up fan who's passionate about fantastic 2- and 4-wheel toys.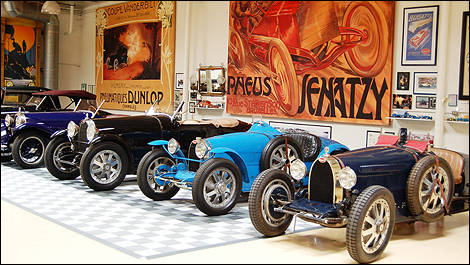 Here's the Bugatti area. Don't you think it would be more appropriate to call it "art gallery" instead of "garage", Mr. Leno?
We had the unique privilege of taking a multiple-hour tour of the
private collection
of James Douglas Muir Leno, born in 1950 and better known as
Jay Leno
, the famous host of NBC's
The Tonight Show
.
"If Jay spent as much time studying as he does acting and goofing around, he could become a big star some day."
That's ironically what his fifth-grade teacher told his parents back in the day.
A Buick... or a hotel?
In the early 1970s, Leno arrived in Los Angeles dreaming of a career in Hollywood. With virtually no money, he got his hands on an old 1955 Buick Roadmaster which he also used as his only sleeping place for about six months. "That's the car I met my wife with," he says. A few years later, Leno abandoned the Buick at his mother-in-law's. Soon, he began climbing the echelons of the Hollywood ladder.
In 1992, much to everyone's surprise, legendary host Johnny Carson picked him as his successor on
The Tonight Show
, the popular late-night talk show that started way back in the 1950s. Jay Leno has since become one of the most renowned and highest paid comedians on American television.
While comedy is what made him so famous, cars are what fuels his passion. Leno bought his 1955 Buick back, fully restored it and tuned it up by adding a Corvette suspension and a wicked 600-horsepower V8.
The venerable, juiced-up Buick is now surrounded by over a hundred automobiles, trucks and motorcycles from just about every automotive era, from the dawn of the 20th century to the present day.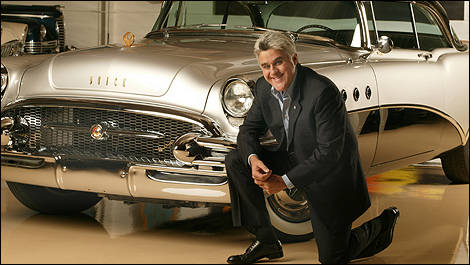 Famous for his late-night talk show, Jay Leno is also a die-hard car enthusiast.