• Some 331,000 Jeep Grand Cherokee SUVs are recalled over coil springs that can detach from the vehicle.
Not all recalls are created equal. Some are big, others small. And especially, some deal with minor issues, some with potentially dangerous ones. This new recall issued by Stellantis affecting just over 331,000 Jeep Grand Cherokee and Grand Cherokee L (model-years 2022 and 2023) falls into that second category.
The reason the company is recalling these SUVs? The rear coil springs can detach and fall of the vehicle while it's being driven. If this happens, drivers could lose control of the vehicle, endangering occupants and other road users.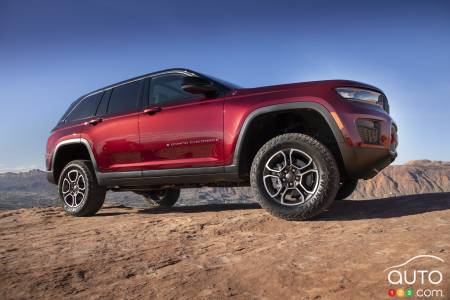 The total number of vehicles recalled by Jeep is 331,401 units. Of those, 114,302 are Grand Cherokee SUVs built between May 17, 2021 and May 31, 2023; 217,099 are Grand Cherokee L SUVs assembled between December 5, 2020 and May 31, 2023.
Most of the SUVs concerned are in North America.
Note that variants equipped with air suspension systems are of course not affected.
It's believed the coil springs on the affected vehicles may have been installed incorrectly. Stellantis says it has received 17 warranty claims relating to the problem, two customer support reports and two road incident reports. As of the end of May, Stellantis was not aware of any accidents or injuries.
Dealers will inspect the rear suspension and replace components where necessary, free of charge. If owners have already paid out-of-pocket for a repair, they will be reimbursed.
Owners of affected Jeeps will be informed by mail starting July 28.