The Jeep Wrangler 4xe is the PHEV with the best residual value, according to Canadian Black Book.
This is the first year that CBB has measured the residual value of plug-in hybrids.
The Wrangler model overall is among the best for holding its value in the industry.
Vehicle prices are often a key point of comparison between models from different manufacturers. While it's certainly correct and relevant to do so, just as important is measuring the residual values of models being compared.
The residual value of a vehicle directly affects the monthly lease payments; for those who purchase, the impact is also very important when it's time to resell the vehicle.
The Canadian Black Book (CBB) has been measuring what it considers to be the retained value, as a percentage, of the suggested retail price (MSRP) of a new vehicle after four years of ownership for the past 14 years. Since last year, the organization has been calculating residual value, which is more related to the price the vehicle will retain over time.
Honestly, there is little difference between the two. Either way, Jeep has reason to be happy with the result of CBB's analyses. The organization named a winner in a new category, that of plug-in hybrid vehicles (PHEV), and that winner is the Wrangler 4xe. Not a shock, because the Wrangler model as a whole is one of the most valuable vehicles on the market. So it's not surprising to see the PHEV variant benefiting.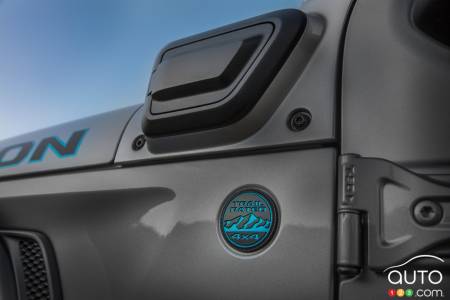 "This award from Canadian Black Book is only the latest feather in the cap of Jeep Wrangler 4xe," said Jason Stoicevich, president - Canada, Stellantis. "As Jeep brand's mission of Zero Emission Freedom takes shape, the plug-in hybrid Wrangler shows that electrification only enhances the capability - and the desirability - of its most iconic vehicle. This is also evidenced in its position as the number-one selling PHEV in both Canada and the U.S."
The electrified Jeep Wrangler features a 2.0L turbocharged 4-cylinder engine, along with two electric motors and a 17-kWh battery, providing up to 35 km of all-electric range.
Said Yolanda Biswah, Senior VP and GM at Canadian Black Book, "Stellantis' Jeep Wrangler has been receiving awards from CBB almost every year for over a decade. This year is no different, and we are excited to reveal the latest win for the Wrangler 4xe in our 'PHEV Main' category. Congratulations on continued success with the iconic Jeep Wrangler."