Model: 
GMC Acadia
: Used
Vehicle Type:
Crossover SUV
The Verdict:
Where an upscale driving experience, plenty of on-board space and room for up to eight are priorities, the Acadia is worth a test drive, but shop cautiously and check any model for the common issues outlined below. A newer model -- or one with plenty of factory warranty remaining -- is your safest bet.
Price
: Used Acadia's are somewhat rare in the used marketplace relative to their competition, although shoppers can expect to find units available ranging between $15,000 and $35,000, depending on mileage, features, and condition.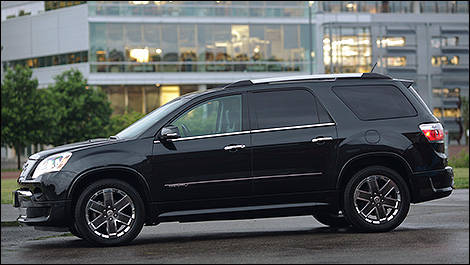 Photo: Sébastien D'Amour


What Owners Like About The Used GMC Acadia:
Plenty of on-board space, an upscale cabin, adequate performance, and flexible interior appointments are commonly praised by GMC Acadia owners. All-season confidence in AWD models and car-like dynamics were also highly rated.

What Owners Dislike:
Lazy transmission programming, fuel mileage, and small at-hand storage bins were among the most common complaints. Others included a fussy navigation system, fussy Bluetooth system, and limited rear-seat comfort.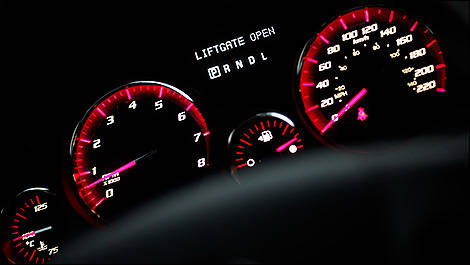 Photo: Sébastien D'Amour


History/Description Of The Used GMC Acadia:
With the intention of putting GMC showrooms on the mental radar of family-minded crossover shoppers, the Acadia launched for model year 2007 with plenty of space, handsome looks, an upscale cabin, and the promise of good fuel mileage thanks to its modern V6 engine. Look for room for up to eight occupants, BOSE audio, dual sunroofs, heated leather, automatic climate control, OnStar, and plenty more.
Trim grades span from SLE to SLT from basic to loaded, respectively. A high-luxury Denali grade was available for several years, too.
Front-drive was standard, and automatic All-Wheel Drive (AWD) was optional. All models have a 3.6L V6 engine, which made 275 or 288 horsepower, depending on the year. All models were equipped with a 6-speed automatic. Consider the Acadia alongside competitors like the
Honda Pilot
,
Nissan Pathfinder
,
Acura MDX
, and
Ford Flex
.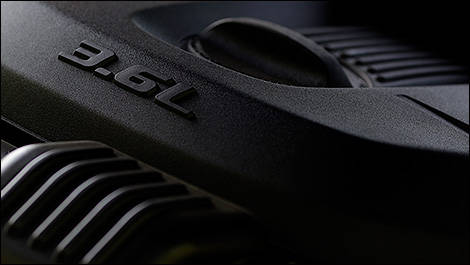 Photo: Sébastien D'Amour
Common Issues With The Used GMC Acadia:
On a test drive, inspect the ceiling liner and footwell carpeting for signs of moisture resulting from a leaky sunroof assembly. This issue seems to have been corrected after 2008 and may be subject to a recall that will fix the issue, a leaking drain tube, free of charge. Ask your local GMC dealer for details.
A transmission that shifts harshly, slips or responds unfavourably to throttle inputs may require having its computer brain wiped out and reprogrammed by a GMC technician.
Have a mechanic inspect the underside of the used Acadia for signs of fluid leakage from the shock absorbers, transmission, engine timing covers, and AWD system, and to be sure the CV axle boots are in good shape.
A fairly well-documented problem with the Acadia is a timing chain wear issue, which could be expensive to fix should it occur, possibly causing engine failure. To protect yourself from this potentially big issue, opt for a model with as much of the lengthy GMC powertrain warranty remaining as possible, and be absolutely sure the model in question was treated frequently to high-quality oil changes. Note that 2007 and 2009 models commonly suffered from this issue.
Test drivers are also advised to confirm proper operation of the air conditioner, rear-seat climate control system, all entertainment-related electronics, and the rear liftgate.
Finally, pop the hood and have someone turn the steering wheel fully from one side to the other. You're listening for any questionable "overloaded" sounds from the power-steering system, which typically come just before power-steering system failure. Be sure to "feel" the power steering on your test drive to ensure it's smooth, and that the system is providing full power assist.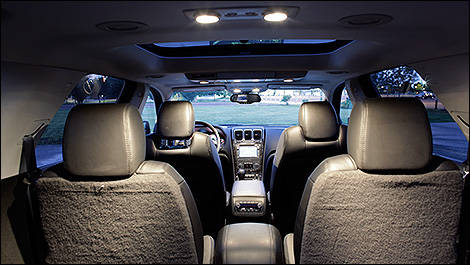 Photo: Sébastien D'Amour
2012 GMC Acadia