The technology is not new, and we have seen it pop up in some recent vehicles. But Lexus is setting a milestone by becoming the first automaker to replace side-view mirrors altogether with cameras.
We've become well-accustomed to using backup cameras, which display an image (usually on the central console) of the area behind the vehicle. Honda took the approach of adding a camera to the physical side-view mirror on the passenger side. When the turn signal was activated, or if the driver simply pushed a button, a large, clear image of the exterior right side of the vehicle was displayed.
This is, by far, the most promising technology we've seen.
More recently, manufacturers have been developing cameras that take over completely for interior rearview mirrors, and project a clear and wider-angle image of the area behind the vehicle.
Lexus ES, but only in Japan
In the Lexus ES, screens affixed to the A pillars will give drivers a better view of the area around the two sides of the car. Initially, the feature is being offered as an option on the model, and only in Japan, where the technology got the legal go-ahead in 2016.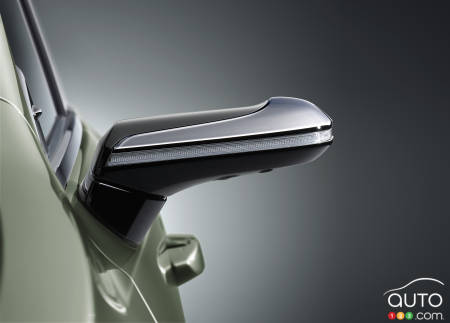 The obvious advantage of the system is that the driver gets a much larger view, and it gets even larger when the turn signal is activated. In terms of styling, the compact size of the cameras means the aerodynamics of the vehicle are improved, and wind noise reduced.
And the disadvantages? Two of them stand out to us immediately. First of all, the cost of the unit, which may incite theft.
The second pitfall comes into play in the case of drivers who usually wear only reading glasses. These might become necessary in order to clearly see what's being displayed on the screen, whereas normally they are not needed when driving.
Yours truly can attest to this problem; reading glasses need to be near at hand when in a vehicle that displays a camera image in the rearview mirror instead of an actual mirror image.
For the moment, the technology has not approved for use in North America, so we won't be seeing it here all that soon. Meanwhile, Audi is going to join the fray and equip its upcoming e-tron model with digital side-view mirrors in certain markets.