VANCOUVER, British Columbia—
Although one of the smaller Japanese auto manufacturers, Mazda has a sound reputation within the industry for forward thinking.
Now that may sound like a strange statement to make, especially considering the company's lack of hybrid and electrically-powered models but remember, this was the company that introduced us to the fantastic Rotary-powered sports car. Of course, that was 40 years ago, but it is still looked upon by many as a revolutionary design.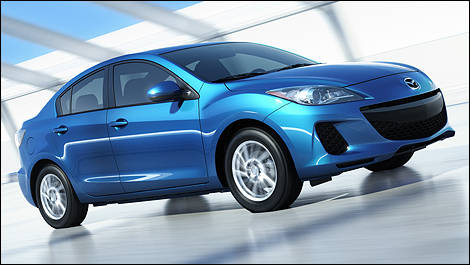 Photo: Mazda
Obviously, it's fairly easy for the large players to pour development dollars into a wide range of technological ideas, but the smaller guys need to be a tad more careful with their money. After all, who truthfully knows what the future holds? Will electric vehicles become the transportation of choice, or will hybrid and/or hydrogen technology win out in the end?
Perhaps the only certainty is that most of us are still content with the trusty internal combustion engine and, until someone offers us a reliable and cost-effective alternative, we're going to keep on filling up with gas or diesel.
With this in mind, Mazda is focusing on optimizing the internal combustion engine and reducing unnecessary weight from its products. The aim is to make vehicles perform better using less fuel, whilst still delivering the Zoom-Zoom which we have all come to love!
Welcome to the world of
SKYACTIV Technology
!
However, before I get into the ins & outs of all this, let me point out perhaps the most important aspect of this philosophy, and that is the new technology will be on every Mazda vehicle sold, and not just on some pricey eco-friendly model. Personally, I like the sound of that!
SKYACTIV-G 2.0L gasoline engine
This newly-designed motor boasts an almost unheard-of 13:1 compression ratio (extremely high for a gasoline engine, and it's actually 14:1 in markets outside of North America due to fuel octane availability).
This was made possible by a new 4-2-1 exhaust system, a totally redesigned piston cavity, new multi-port injectors and the introduction of continuously-variable sequential valve timing (Dual S-VT).
The 2.0L SKYACTIV-G also benefits from a 30% reduction of internal friction, and the overall weight of the engine is now 10% less than the outgoing one (2.0-litre MZR), yet, it offers approximately 15% more torque in the lower- and mid-range RPMs.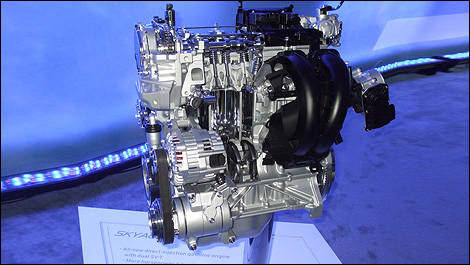 Photo: Kevin Corrigan